A New World of Opportunities
VanArts is excited to announce our one-year program in Broadcasting for Web, Radio & TV is being re-launched as Broadcasting & Online Media! With careers for broadcasting school grads expanding further into the online world of podcasting, monetization strategy, YouTube influencer marketing, social media management, and digital media production, we are excited to continue leading the way in this new direction for our broadcasting students.
Graduates in Broadcasting from VanArts will be equipped with the on-air, video and online skills to enter into the traditional radio and TV industries or bypass the gatekeepers and produce digital media content, monetize social media channels, and build a following as online influencers for themselves or their clients.
Our broadcasting program's roots in radio production are still intact, with students going live on the air from the very first day of class, paralleled by the new focus on online media production, with assignments such as producing their own podcast in the first week.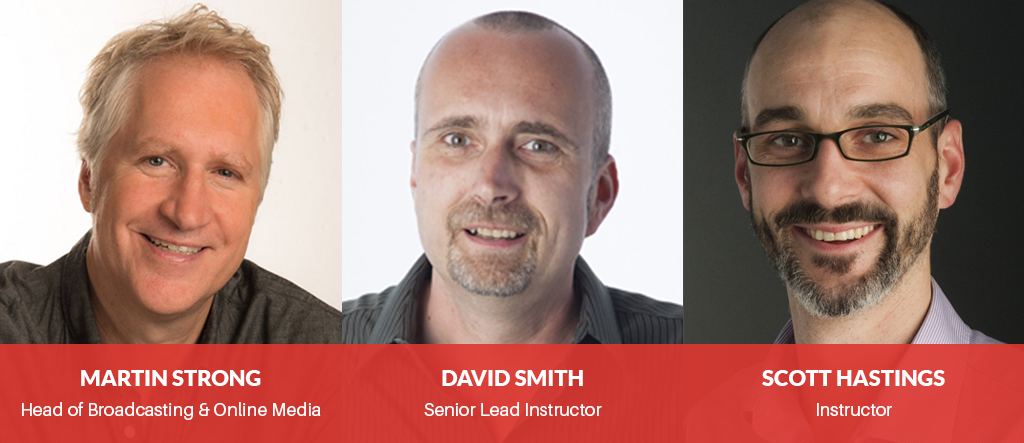 Media veterans Martin Strong (Department Head & West Ender Reader's Choice for Best Local Radio Personality – Roundhouse Radio) and Dave Smith (Senior Instructor from JACK FM, Hot 103 & much more) are guiding our students through the day-to-day operations of running an active radio station in-house. Joining forces with powerhouse media producer & instructor Scott Hastings, students are now honing their broadcasting skills even further in green-screen compositing, video & audio editing, and content creation for the web. At the end of the day, it's all about storytelling and connecting with a mass audience!
Our Broadcasting School Graduates Are Making Their Mark
Just within the past 6 months, Broadcasting alumni have been landing jobs and finding new ways to live their dreams as a radio station personality, video producer or social media manager.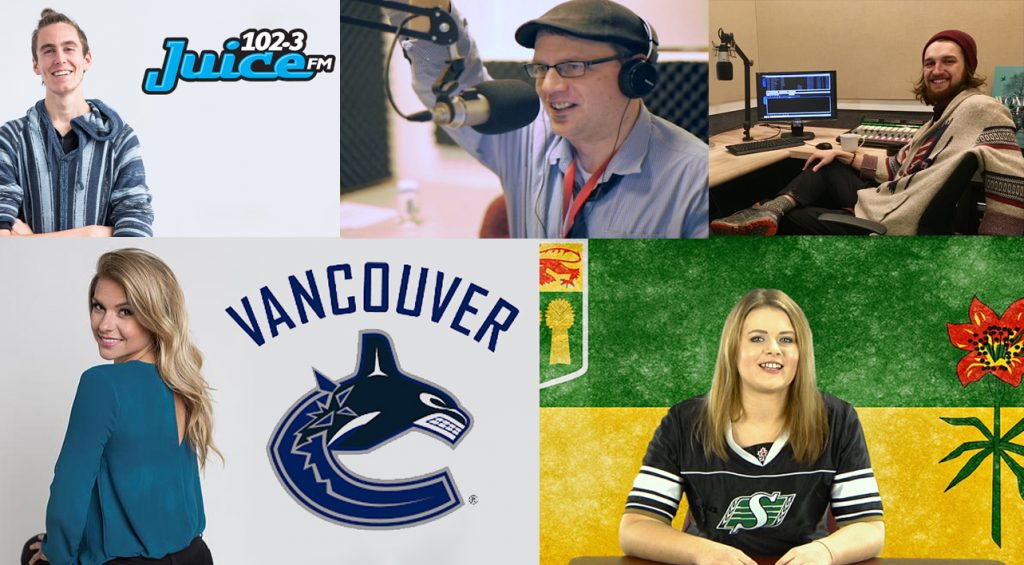 James Murray is loving his job at Vancouver's Roundhouse Radio while Alex Robinson is thrilled to be back in his home town of Grand Forks, BC as a morning-show host & reporter at Vista Radio's 102.3 Juice FM. Kevin Olenick has recently started his first production job at CKNW alongside guest speaker and local media personality Jody Vance, while Saige Pacholok can be seen in the stands of Vancouver Canucks games as an NHL real-time correspondent, capturing stories from fans and sharing them on social media. Current student Justine Gosling is already scheduled to begin working at Magic 103.5 in her home town of Weyburn, Saskatchewan while she wraps up the tail-end of her studies.
Leaha Hammond just graduated last week and already has a job as the social media manager for local live entertainment company MoonCoin Productions, while fellow Broadcast school classmate Liam McClurg is carving a freelance path for himself combining his love for music and video production. These new passions were all discovered through exploring the different options available to them through our Broadcasting program. Hear their stories in this video they produced about their experience!
It's Time to Go Online
Are you as pumped as we are to see where these new doors of opportunity lead? Talk to us about how to get started, check out the Broadcasting & Online Media page, and join our webinar on April 18 to chat in real time with our faculty and see the latest work from our students.
Your Future in a Broadcast Career Starts Here!