Student Success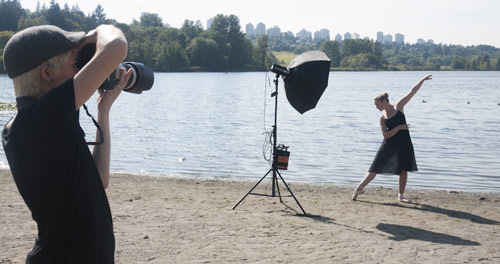 Blended Delivery for Photography
What do photography classes look like in a "blended delivery" method of on-site + online? Let our Program Manager Jeff Bell show you what we're doing.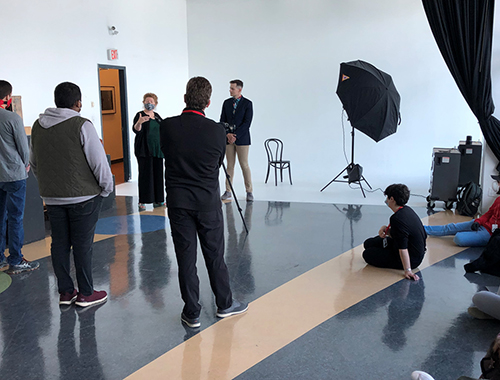 Inside VanArts: Photography in the Studio
As part of our phasing-in of blended delivery at VanArts in the midst of the COVID-19 pandemic, our Professional Photography program has begun the return of in-person studio classes to our campus. Through the school-wide implementation of hand sanitizers, guidelines for social distancing, and wearing of masks, instructors are able to offer in-person classes for studio workshops and location shoots, while lectures and group critiques continue to be held online.
Here is an exclusive look inside the photography studio during a Food Photography class, with instructor Darina Kopcok.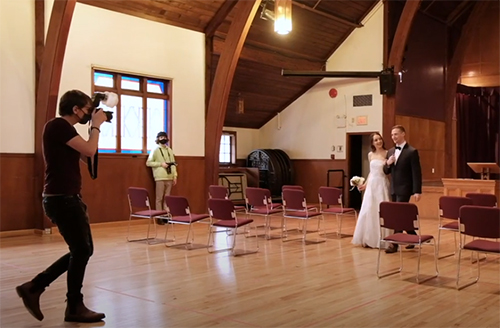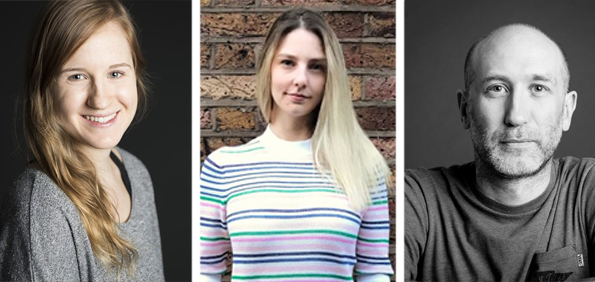 Meet our Graduates
On December 10, 2020, we hosted a live Q&A webinar with three of our most successful graduates: Laura Zeke, a photographer for the local dance community in Vancouver, Kelsey Hale, a fashion photographer who has covered the Academy Awards & other events for the New York Times, and Greg Massie, a visual effects artist pursuing on-set stills photos & commercial portraits.
Check out the entire conversation here:
Curriculum
Term 1
The Professional Photography program begins by teaching you the fundamental principles of photography and photo imaging. It's your foundation for the rest of the year, learning how to control your image quality, use your gear, understand digital workflow and image management, and develop your expertise. You will also train for the proper set-up and tear-down of our studio lighting equipment, and get your certification so you can book the studio independently for assignments.

Basic Digital Workflow Computer Literacy Form & Content History of Vision Introduction to Lighting Nude & Figure Photography Painting with Light Photo Fundamentals Photoshop Basics Portfolio Group Critique Posing with People Seminar
Term 2
Moving into Term 2, your foundation expands and becomes more sophisticated, in everything from post-production to specific areas of specialization, interaction with clients and ethical considerations. Image processing extends to printing photo output on our professional printing equipment, and your coursework begins to reach beyond the computer lab and studio, out into the city and beautiful natural areas of Vancouver for shooting.

Family & Child Photography Industrial Photography Intermediate Lighting Photojournalism & Visual Storytelling 1 Photoshop 2 Portfolio Group Critique Product Photography Street Photography Visual Language Web Development - Basics Wedding Photography Video Production
Term 3
In Term 3, your work in the lab, in the studio, and on location becomes even more advanced, in terms of lighting, equipment and practice. You also now begin pursuing assignments specific to your chosen area of specialization for your photography business. Discussions begin with our faculty about subject preparation, team building, estimating and project management.

Action & Sports Photography Advanced Lighting & Production Architectural Photography Fashion Photography Food & Beverage Photography Intro to Business Development Photoshop 3 Portfolio Group Critique Style Development Web Development - Build Video Production
Term 4
You've arrived at the final Term 4, and now it's all about your business. Intensive business training and preparation gets into marketing strategies, web presence, social media, and your final portfolio. Forming an extensive business plan under the guidance of working pro photographers will prepare you for work in a very competitive field. One final critique from a portfolio review panel of industry leaders will provide the right amount of feedback and encouragement to launch a successful career.
Actors' Headshots Applied Portfolio Business Development Graphic Design for Photographers Portfolio Development Portfolio Group Critique Portfolio Review Panel Stock Photography Web Development - Finish
Faculty
Ian McGuffie
Head of Professional Photography
About
Ian McGuffie
Head of Professional Photography
Ian McGuffie is one of the leading members of the Vancouver photographic community, with over 40 years of professional experience.  For the past nineteen years he has been director/curator of Exposure Gallery, Vancouver's oldest photographic gallery. As an award-winning photographer his work has been exhibited in Europe, North America and Japan.  He is also President of the Vancouver Association for Photographic Arts, a society for the promotion of photography as a medium of creative and artistic expression, and a board member for the successful Capture Festival, showcasing the best in photography from Vancouver.
Jeff Bell
Program Manager
About
Jeff Bell
Program Manager
Jeff Bell has immersed himself in the art and technology of making pictures, after working in a corporate role in information technology and web development for ten years.  Through his professional training at Langara College, he now relishes the opportunity for expression and creativity offered by pursuing photography full-time, specializing in portraits and sports photography. www.jeffbellphoto.ca
Adam Blasberg
Lead Instructor
About
Adam Blasberg
Lead Instructor
Always pushing his own limits, Adam Blasberg found his inspiration to photography on a one-man bicycle tour of Canada from St. John's, Newfoundland to Victoria, BC.  Dedication to perfection, professionalism and focus have helped put Adam on the map as a rising force in photography. Whether behind the lens or in front of it, his focus is people, working cooperatively with all involved to produce a flawless finished piece.  With a peerlessly sharp eye for details, Adam Blasberg brings a personal touch to his clients' work. www.adamblasberg.com
Christopher Morris
Lead Instructor
About
Christopher Morris
Lead Instructor
Christopher J. Morris got his start in photography over 25 years ago shooting news and sports events in Montreal for Canadian Press, Reuters and several other newspapers. Now based in Vancouver, he has worked on assignments for MacLeans, Time, Newsweek, Hello, The New York Times, Times of London, The Observer, Der Spiegel, Stern, and many other magazines around the world, doing documentary work, news, sports, features and portraits. Currently a contributor to Corbis and Redux Pictures, Christopher has been teaching at VanArts since 2009, and most recently covered the last 3 Olympic Games, winning an Applied Arts Award for his work in London 2012. www.christophermorris.com
Mary L.G. Jensen
Lead Instructor
About
Mary L.G. Jensen
Lead Instructor
Mary L.G. Jensen is an accredited portrait photographer who has been running her successful studio in Richmond, B.C. since 1986. Through giving presentations, teaching fellow photographers, and exhibiting her work, she has earned her Master of Photographic Arts designation from the Professional Photographers of Canada. Further recognition from her peers has allowed her to have the prestigious F/PPABC conferred on her, making her a Fellow of the Professional Photographers Association of British Columbia. She is accredited in both Portrait and Wedding photography. www.artisanphotography.ca
Kaj R. Svensson
Instructor
About
Kaj R. Svensson
Instructor
Educated in British Columbia and California Kaj has over 25 years experience in commercial, illustrative and stock photography working in all camera formats including 35mm, medium, 4" x 5" and 8" x 10" view cameras, and the latest digital equipment. Kaj also has extensive knowledge of and experience in lighting techniques and has owned and operated studios for over 20 years. He has been actively involved in teaching for over 20 years, and has taught at institutions such as the University of British Columbia (Centre for Continuing Education),British Columbia Institute of Technology, and other prominent local photography schools. www.viewpointswest.com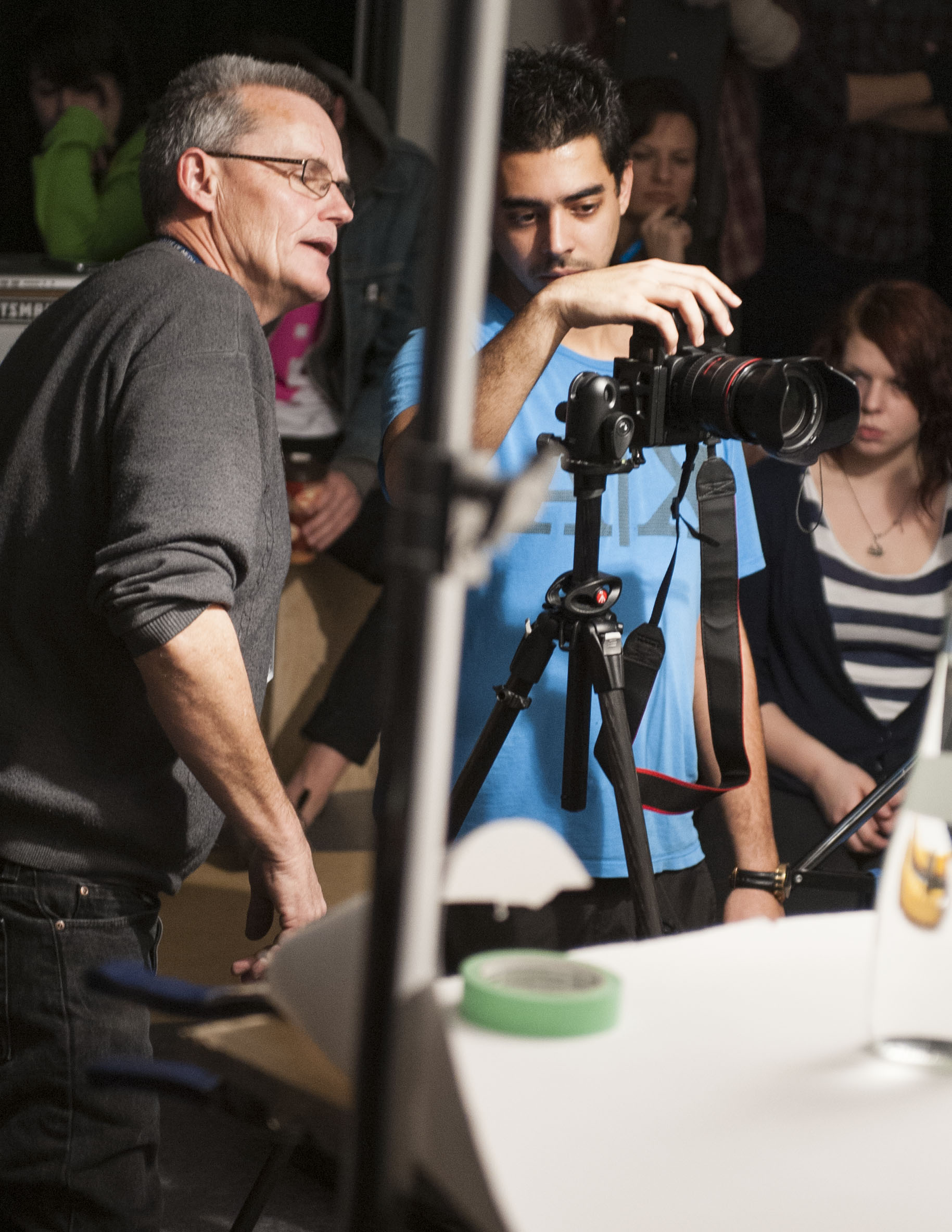 About
Sandra Leung
Instructor
Sandra Leung is the principal photographer and owner of Yaletown Photography and Yaletown Wedding Gallery. Sandra specializes in a artistic lifestyle approach to people photography. Her work has been published in numerous local and international publications. With 17+ years of photography and marketing & communications experience, Sandra has become one of the top wedding photographers in Vancouver. Sandra also brings a unique fashion-photojournalistic style to her wedding imagery. Each wedding celebration reveals unique beauty and emotions which she captures in her passion to create meaningful and dynamic imagery for both international and local clients alike.
About
Lisa Kaulback
Instructor
As a graduate of Langara's Professional Photo-Imaging Program, Lisa Kaulback has found expression for her obsessive attention to detail in the world of production, a role that involves helping photographers quote and manage commercial photography shoots. Her diverse portfolio on large scale stock shoots and award winning advertising campaigns dates back to 2002 and has taken her to Australia, on an Alaskan cruise, to the mountains and the desert, and into the strange world of taxidermy. In the classroom, she is credited with high standards, demanding assignments, wit, and compelling anecdotes. Lisa's latest project is a book she has authored on commercial production, Building Winning Bids – available on iBooks. http://kaulbackproductions.com
Load more faculty members
Kevin Lanthier
Instructor
About
Kevin Lanthier
Instructor
Kevin Lanthier is a visual artist, commercial photographer, and digital retoucher. With his company Cake Imagery, he works with top creative agencies and advertising photographers in Vancouver and around the world, for clients including Jameson Whiskey, Ronald McDonald House, Telus, Rogers, Esso, Aritzia, CP Rail, Coast Capital, BC Hydro, The City of Vancouver, and many others. He brings this strong technical foundation from the commercial world to his fine art work, building his images from dozens, if not hundreds, of separate photographs to create scenes and convey ideas in ways not possible with traditional photography alone. His current work focuses on distilling and amplifying narratives found in urban spaces via highly controlled, concept-driven compositions. Kevin has been working with Photoshop since before he picked up a camera, and maintains a philosophy that he will use any tool or technique available to realize the images he wishes to create. He likes to bring this openness of possibilities to his students, to encourage them to try to create the images from their imagination, regardless of the constraints of the physical world around them. http://www.cakeimagery.com http://www.kevinlanthier.com
Corwin Hiebert
Instructor
About
Corwin Hiebert
Instructor
Corwin Hiebert is a business management and marketing consultant to creative entrepreneurs (like world-reknowned photographer and author David DuChemin).  As the co-founder of CREATIVEMIX – Ideation Conference, Clamorate.com and Taendem Management Agency, Corwin passionately helps creative people turn their dreams into reality, one good business decision at a time. corwinhiebert.com
Mauricio Orozco
Instructor
About
Mauricio Orozco
Instructor
Mauricio Orozco is an advertising and commercial photographer. Born in Mexico City and educated at the Brooks Institute in California, he now calls Vancouver his home. His philosophy is simple, to collaborate with his clients to create images of their products and ideas in a strong and clear way.  Some of his clients include Creative Engine Branding and Design, Bare Advertising, University of British Columbia, BC Hydro, BBA Engineering, Grupo Modelo, Kobex Resources Canada, Atkinsons of Vancouver among others. Some of his images are also represented by Farmboy Fine Arts. www.orozco.ca
About
Patrick Koslo
Instructor
Patrick Koslo's first published work was a shot of science fiction author William Gibson for the 1991 cover of West Magazine. His work has since appeared in Vancouver Magazine, B.C. Business, City Food, Common Ground, Nuvo Magazine and the Georgia Straight. He has done slideshows and lectures at Vancouver Film School, Exposure Gallery, Camera Canada College at UBC, Capilano College, The Roundhouse Community Centre, The Planetarium and various camera clubs. His work, which included 50 light painted images, appeared in the 1998 episode Killswitch of The X-Files with Twentieth Century Fox Television. He worked with Georgia Pulos on a 50th Birthday tribute to Jim Morrison of The Doors, shooting in Los Angeles, Palm Springs, Santa Barbara and Paris France. He is constantly looking for new ways to expand his conceptual, experimental photographic vision. He does not use a computer or photoshop but encourages his students to use whatever means necessary to stand out with a creative edge in today's competitive and high-tech photographic world.
Ross den Otter & Sarolta Dobi
Instructors
About
Ross den Otter & Sarolta Dobi
Instructors
Leaving their small B.C. towns of Courtenay and Summerland in the mid-eighties and meeting at Langara's respected photography program led not only to a thriving partnership in business but also to a thriving partnership in life. Pink Monkey Studios, established in 1996 by the husband-and-wife team of Ross den Otter and Sarolta Dobi, has skillfully filled the portfolios of actors, models, and corporate executives from across the Lower Mainland for over a decade.  Establishing and maintaining quality relationships with all their clients, the Monkeys' branched out to commercial and on-set film work as well, expanding the scope of their business. www.pinkmonkeystudios.com
Scott Hastings
Instructor
About
Scott Hastings
Instructor
Scott has been a media producer, consultant and instructor since 1997.  Most recently he has worked with Identify Photo on a number of video productions as a producer and sound engineer for non-profit organizations and is an active musician and entertainer. Scott's work experience also includes many years with the Gulf Islands Film & Television School as 3D Animation program manager, soundtrack composer, video mentor and co-producer of the school's official YouTube Channel launch. He has developed websites, print materials and produced animation for his award-winning short Frog Song, the documentary Contact the People (2002 Sundance Film Festival premiere), plus sound design for Lisa Jackson's NFB short Suckerfish and Richard Reeves' camera-less animated film 1:1.
Tracey Kusiewicz
Instructor
About
Tracey Kusiewicz
Instructor
Tracey is a professional freelance photographer specializing in food and beverage. She photographs cookbooks, stocks, editorials, product packaging and advertising for the food & hospitality industries. A passion for the culinary arts, combined with her skills and commercial training in photography, led Tracey to develop Foodie Photography in 1997. Topics such as lighting techniques, food styling, set decoration, media usage and color theory will be shared and demonstrated with captivating photography and quirky anecdotes compiled through the years. Tracey de-mystifies food photography and styling with insightful and fascinating tips, tricks and techniques commonly used in this niche market. www.foodiephotography.com
About
Vairdy Frail
Instructor
Years of traveling around the world following the surf and snow can do a lot of wonderful things to a person.  For Vairdy the people and places rekindled a passion of photography and eventually brought her back to Vancouver to study at Langara College. After graduating from the Professional Photo Imaging program, she spent the next few years between the secluded Islands of Haida Gwaii in the summertime shooting and following the competitive snowboardcross racing circuit competing across Canada.  Her competitive drive to develop as a snowboarder took her to the Andes Mountains of Chile where she was injured during training, putting a sudden end to her snowboarding career. Following some recovery time at home in Vancouver, Photography once again became her focus and before long Vairdy was assisting and learning the ropes of retouching with Commercial Photographer Philip Jarmain.  After a couple years in the commercial business, Vairdy had discovered talents and interests that she did not know existed in retouching and post-production.
With this new focus Vairdy brings to the industry her own unique style, delivering quality work to ad firms and commercial photographers here in Vancouver.
Overview
Program Duration
12 Months
Next Start Dates
September 7, 2021
March 14, 2022
September 6, 2022
March 13, 2023
The Professional Photography program at VanArts is designed for you to master the technical, creative and business skills essential to life as a professional photographer. We offer the only intensive one-year program in Vancouver that focuses on business skills in addition to hands-on experience in the field and studio, all taught by successful working photographers.
Bring Your Own Device
A laptop is required for this program, Expand the 'Supplies and Equipment' section below for laptop specs and other equipment requirements.
PTIB Approved
This program has been approved by the Registrar of the Private Training Institutions Branch (PTIB) of the Ministry of Advanced Education, Skills and Training.
Degree Pathways
VanArts has articulation agreements in place with several well established universities/colleges in Canada, Australia, and the UK. These degree pathways allow you to complete your bachelor's degree in as little as one year after your studies at VanArts. This gives you the advantage of two credentials; a professional diploma and an undergraduate degree. These partnerships may not only save you money in tuition cost, but allows you to transition easily from VanArts to the partner institution while continuing your educational pathway in your chosen field of study. For international students, completing your BA degree in as little as two years of additional study with our local university partners provides you with the option to apply for a Canadian work permit, which may lead to permanent residency or Canadian citizenship. This list represents the pathways, universities and specific degrees available for graduates of Digital Photography at VanArts:
Tuition
International
$37,750.00 CAD
Additional Information
Payment Schedule
10% deposit upon acceptance to hold your seat
40% six weeks prior to start date
50% by end of Term 1 (3 months into studies)