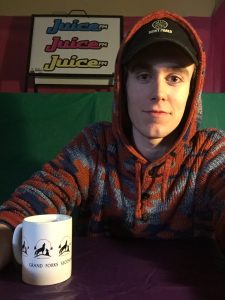 Living the Dream On the Air
Imagine landing your dream job with one of the biggest radio stations in your hometown – that's exactly what Alex Robinson from Grand Forks, BC did upon graduating from our Broadcasting program. We recently caught up with Alex to learn more about his new gig as the Morning-show Host/News Reporter with Vista Radio's 102.3 Juice FM, Grand Forks & Boundaries Biggest Variety.
"My day starts at 4:30AM, and I'm at work for 5AM to record the news. My morning show starts at 6AM, in which the previously recorded news/sports run twice an hour along with my other live breaks. The Morning Show ends at 10AM and then I usually stick around until 1 or 1:30PM to work on future news (setup interviews, write stories, brainstorm etc.). I attend city council meetings and school board meetings so I always know what's going on, and it's my home town so I love every second of it."
Making Industry Connections
Through the year, the Broadcasting department takes students on studio tours and brings in industry professionals as guest speakers to better help our students prepare for their careers. One guest speaker in particular ended up being a major source of inspiration for Alex – Drex, of Steele & Drex on News Talk 980 CKNW came in to speak with our students one afternoon and Alex jumped at the opportunity to shadow him during his evening radio show.
"At that time, Drex connected me with my current General Manager, who I then hassled a few times a month until a few weeks before my graduation, to which he accepted me as an intern for the company. I had an internship lined up with The Goat (another Vista Radio station), which lasted until very recently. I was positioned here in Grand Forks at the start of this March."
Finding Your Path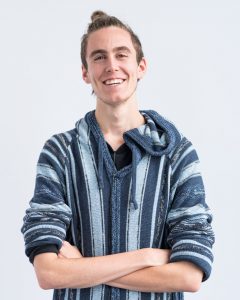 Alex is now living his dream and doing what he loves, and it all started with him attending a VanArts Open House! Oddly enough, his original inclination was towards more of an art-focused program, like Animation.
"It wasn't until we all sat down and started watching the teaser/intro video that I realized I needed to take broadcasting. I had no idea what I wanted to do throughout all of high-school, I told everyone that asked me that I was "going to be famous". Watching that video was surreal, it immediately occurred to me that I couldn't spend my life behind a desk; I'm an incredibly creative individual and the immediate thought that I could be the voice of my hometown was too much to turn down."
If you live in the area, tune into 102.3 Juice FM in the mornings, or check-out Alex's personal website at: imalexalan.com.
Feeling inspired? Join us for our next Broadcasting Webinar on April 18 to speak directly with our faculty, or contact our Admissions department today.