Fairleigh Dickinson University
For graduates of all diploma programs at VanArts, degree pathways are available through the Vancouver campus of Fairleigh Dickinson University (FDU). Through this pathway, VanArts graduates will be able to earn 45-60 credits of a 120 credit degree program, advanced standing towards a Bachelor of Arts in Individualized Studies (BAIS). Areas of specialization include Applied Technology, Business, Communications, Hospitality & Tourism, or International Relations.
Students must take a minimum 12 credits per semester, but can take up to 18. Students with a prior Bachelor's degree may potentially have additional credit value applied (up to 90 credits total, including credits applied from VanArts), and complete their BAIS at FDU in as little as 8 months (two semesters).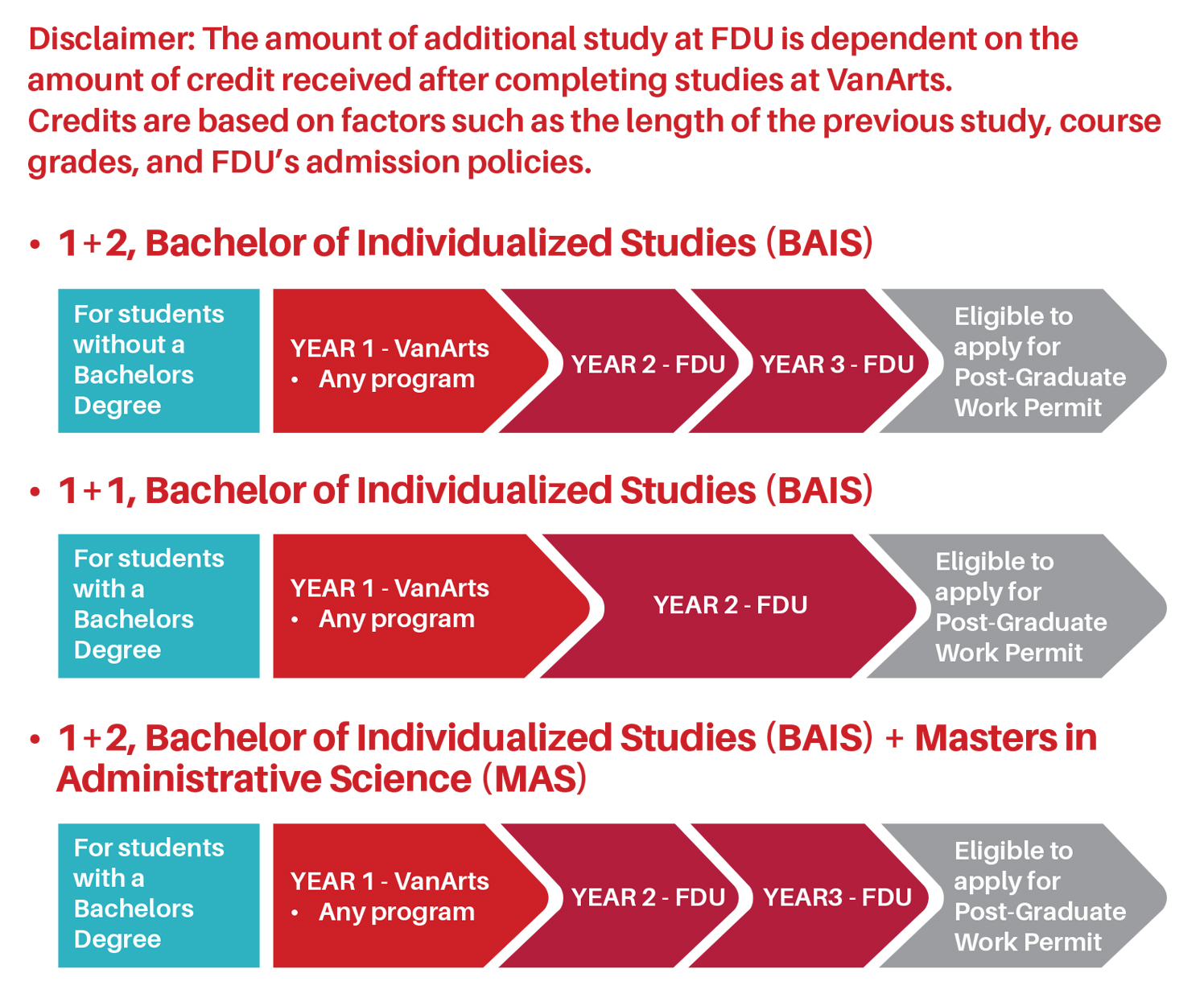 Why Consider FDU?
A local downtown Vancouver partner allows students to continue their studies close by.
International students can apply for a post-graduate work permit after completing the BAIS program.
Up to 9 credits within the BAIS program can be taken at a Master's level, so if students decide to pursue a Master's degree after completing their BAIS, they already have a head-start in credits and fees.
Who can Transfer to FDU?
Graduates of all full-time diplomas at VanArts are eligible. A summary of the total number of credits from each program which can be applied towards the BAIS degree is listed as follows: 2D/3D Character Animation, Game Art & Design, Visual Effects, Professional Photography = up to 54 credit points Web Development & Interactive Design = up to 48-60 credit points Acting for Film & Television = up to 48 credit points Broadcasting & Online Media = up to 45 credit points.
Meet Gurvinder Padda Singh and Maanik Puri from India, who both studied at Vancouver Institute of Media Arts (VanArts) and Farleigh Dickinson University through our degree pathway program.
For more information on tuition, start dates, and admissions, contact us today.