Student Story: My Journey in Broadcasting by Kevin Olenick
I've begun the final term at VanArts and I feel like I'm getting better every day.
The difference from previous terms now is where my strengths and areas of improvement are:
-I have the ability to write a sharp newscast, sportscast, traffic update, or entertainment story.
-I'm progressing in writing commentaries.
-More confident voice. It's not about having a " radio" voice. It's about having a sincere confident voice. I've taken steps towards developing that and I'm definitely more comfortable being on radio than I am on TV. However, this month I found I got a bit of a niche on TV.
-Another thing (and this was a reminder that I got from an instructor 9 months ago): I previously had no idea how to edit anything. Now, I can competently edit footage on Audition and Premiere, a great skill to have in the toolbox going forward.
Things I'm working on…
This leads me to the things I'm working on based on the feedback I have:
-Energy/Enunciation. I have developed what one instructor calls "Announcer Fatigue." Good energy at the start, but fading near the end. So it is a matter of pacing myself better, as well as continuing to practice reading.
-Opinion. Standing stronger and being better at defending my opinion. Still listen. Still respect. I don't need to be a jerk – but stand stronger on my opinion.
-Sharper bits. My stuff is lengthy, which can work in some formats. However, in other formats where people flip the radio station the moment it becomes uninteresting, you have to catch their attention. Or keep them tuned in. An example of who does that very well is Virgin Radio.
-Teleprompter. It is hard to look "natural" on the teleprompter. I got advice to make it like a conversation. However, I'm still reading. The challenge is to bring "me" to the TV. Now, as mentioned, I'm more comfortable in radio, but it is important to have a number of skills in the toolbox.
Out in the Community…
I continue to volunteer with Co-op Radio 100.5 FM. I'm involved with Each for All Radio. I interviewed Rob Hellinger from Left Handed Media, as well as worked with the group on a show with Groundswell. Not only is it great radio experience, it really helps get to know the heart of Metro Vancouver and the ways people support each other in community. I've also been on my classmate Mitch Milani's Bottom Line View.
I'm still at Cineplex. However, I'm handing out papers in the morning as well. I also am developing some other plans as well. Including, yes, knocking on the radio stations' doors.
I continue to audition. I was in one movie, and I know more stuff is coming.
The city continues to be amazing. And with it being summer, it will be more amazing.
Stepping up my game…
The big thing is I want to step up my game. Each time behind a microphone is an opportunity to be better, and to improve.
I'm very grateful for the people near and far that have expressed their care and support for being part of this journey.
I'll end with this quote:
"Impossible is just a big word thrown around by small men who find it easier to live in the world they've been given than to explore the power they have to change it. Impossible is not a fact. It's an opinion. Impossible is not a declaration. It's a dare. Impossible is potential. Impossible is temporary. Impossible is nothing."

― Muhammad Ali
Feel free to listen to me here: soundcloud.com/kevole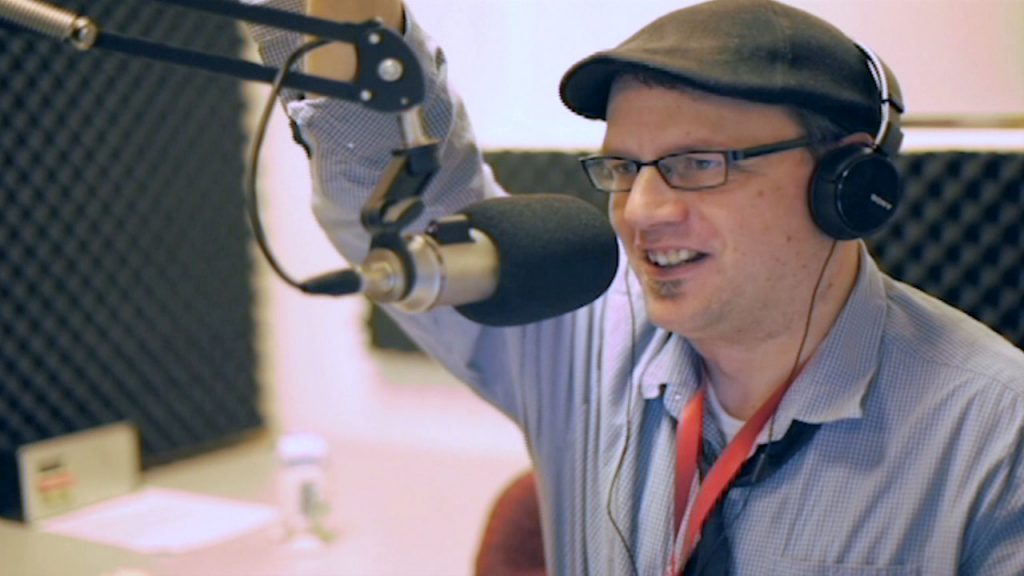 Kevin Olenick came to VanArts from Alberta to join our Broadcasting for Web, Radio & TV program. Thanks Kevin for sharing your story and experience with us!  
If you are ready to start your own story, Contact Us today about auditing a class or applying now for September 2016.
You can also learn about Broadcasting at our next Webinar! – Register Here