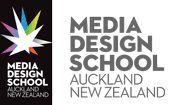 For graduates of our diploma programs in Game Art & Design, Visual Effectsand 3D stream of Character Animation, VanArts offers a degree pathway through Laureate University's Media Design School in Auckland, New Zealand.
VanArts graduates entering Media Design School can receive academic credit to transfer directly into the 2nd year of a Bachelor of Art & Design orBachelor of Creative Technologies.  This means you can earn a professional diploma from one year at VanArts, followed by a BA degree after two more years in New Zealand.
Upon receiving your degree, you may also be eligible to apply for a work permit.  Media Design School is one of the top graduate employers for WETA Digital and they have an overall 90% placement rate for industry employment, including close relationships with local studios Oktobor Animation, Sidhe and Gameloft.
Entry Criteria for the articulated degree program is:
Successful completion and pass of designated program of study at VanArts
Transcripts from studies at VanArts
Presentation of final portfolio
A 2500-3000 word research essay to demonstrate education and written ability to be successful in a third-year degree class
For more information, visit www.mediadesignschool.com or contact us today to help you get connected to the right people at Media Design School for questions about the pathway.