Program Duration
6 Months
Next Start Dates
March 11, 2024
September 3, 2024
March 10, 2025
September 2, 2025
You know you want to get into the arts, but you're unsure of how to get started. That is precisely what this program is designed for.
By providing experience in courses related to Film and Television, Photography, Animation, 3D Modelling, Video Games, Visual Effects, Graphics and Web Design, you will not only gain a clearer idea of which industries are of particular interest to you, but also develop a portfolio to admit you into the next step: ideally a one-year diploma program of your choice at VanArts!
Skills You Will Learn:
• Life Drawing
• Concept Development
• Art & Design Theory
• Adobe Photoshop, Illustrator & Premiere
• Basic modelling and texturing in Autodesk Maya
• Fundamental concepts of animating in 2D & 3D
• Storyboarding & Animatics
Career Opportunities:
Art Foundation is designed to expose you to aspects of our various one-year diploma programs so you can make an informed decision on the career path you wish to pursue. Once you narrow your focus and decide, venturing into further training will open doors to your dream career.
PTIB Approved
This program has been approved by the Registrar of the Private Training Institutions Branch (PTIB) of the Ministry of Advanced Education, Skills and Training.
Curriculum
Term 1
The first term (3 months) of the program introduces visual language, exploring how and why an image has an impact on the viewer.
Composition, design principles, colour theory, and perspective are explored through drawing, illustration, and photography. Imagining characters and environments are developed and refined from scratch. Adobe Photoshop, Illustrator and Premiere are used to create these concepts through manipulating photos, layout and design, and video editing.
By the end of Term 1, you will have laid the groundwork for the basic concepts needed to dive deeper.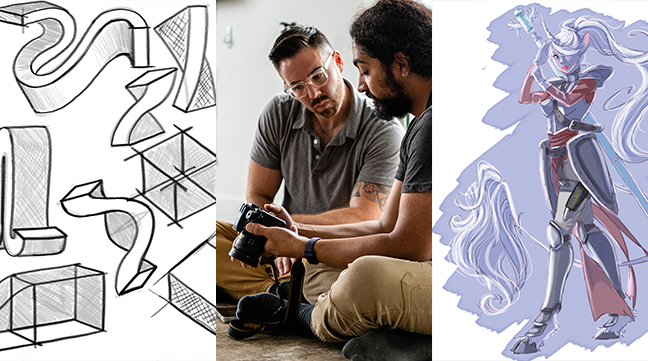 Life Drawing Design Theory Concept Art Visual Language Photography
Term 2
In the final 3 months, you build further on drawing skills and art theory, and the courses take concepts, characters, and landscapes to a more refined level.
Characters and environments are brought into storyboards and come to life by adding music and sound to animations and reinforce visual language concepts. Animation is explored through motion graphics in Adobe Premiere, 2D character animation in Toonboom Harmony, and modelling, texturing and animating in 3D using Autodesk Maya.
By the end of the program, you will have enough material to develop a portfolio for admission into further study towards the right art career for you.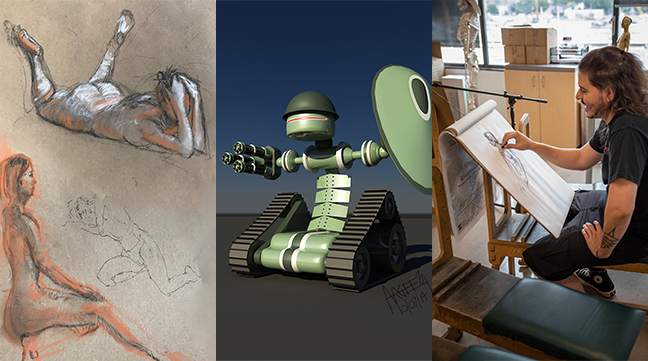 Concept Art Animatics 3D Modeling Motion Graphics Figure Drawing
Faculty
Scott Hastings
Head of Art Foundation
About
Scott Hastings
Head of Art Foundation
Primarily a visual artist producing illustrations, graphic designs, motion graphics, websites, and video production, Scott Hastings is also an active musician and entertainer. Some of his contracts include Layout & Design for Rogers Communications, Graphic Design for Actress Rebecca Romijn, Album Designer for Ludwig Recordings, and Producer of an animated explainer video for MS Filter Systems Inc.
Scott's career started at the Gulf Islands Film & Television School as 3D Animation Program Manager, Soundtrack Composer, Video Mentor and co-producer of the school's official YouTube Channel launch. He won awards for his short 3D animated music video Frog Song and created opening credit animations for the documentary Contact the People (2002 Sundance Film Festival premiere), Sound design for National Film Board short films Suckerfish by Lisa Jackson and The Collector by Kassia Ward, and Richard Reeves' camera-less animated film 1:1.
About
Thomaz Magno
Instructor
Thomaz Magno has been drawing professionally since 2006, starting as a graphic designer in Brazil.
In 2010 he moved to Canada to pursue a career in animation, and here in Vancouver he has worked full-time for animation studios such as Icon Creative, Titmouse, and Atomic Cartoons as a designer and concept artist.
He has participated in traditional live painting and online competitive digital speed painting forums,
illustrated two published novels, works on sculpting in clay and VR, and freelances from his home studio working on concepts for clients like Framestore NY and Spark Animation.
Tuition
International
$14,750.00 CAD
Additional Information
Payment Schedule
10% deposit upon acceptance to hold your seat
40% six weeks prior to start date
50% by end of Term 1 – Week 7
International Students
Please note: For international students, a student visa is not required for this 6-month program, but a visitor visa might be required. All other guidelines and policies for travel determined by IRCC must still be followed and adhered to.