Student Success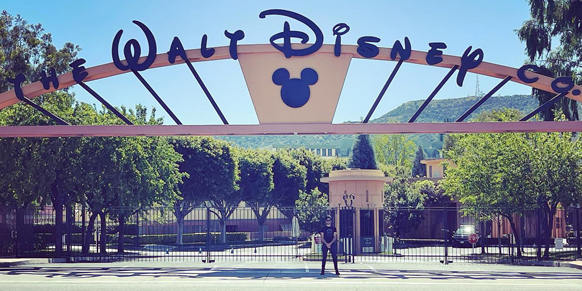 Animation Grad's Career Leads to Disney
Chatrasal Singh came to VanArts from India with a dream and a passion for animation.
This passion, combined with hard work and persistence, has taken him all over the world for a successful career, working in India, China, London, Australia, and Vancouver for studios such as Dreamworks, Animal Logic, WETA Digital…
and now at Walt Disney Animation Studios in Burbank, California!
Listen to his story here.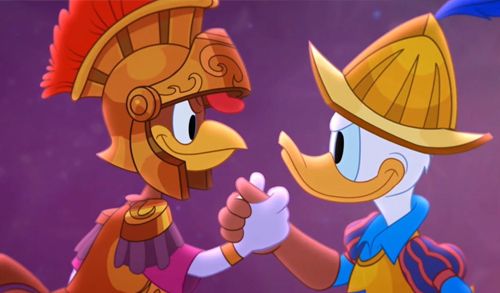 From Canada to the UK
Meet Regan Greenwood, a graduate of both 2D & 3D programs who has enjoyed a globe-trotting career after VanArts.
Regan has worked at several Vancouver studios on series like Jake and the Neverland Pirates and The Three Caballeros for Disney, and has now re-located to the UK where she is an animator on video games Star Citizen and Squadron 42.
Watch the video here to hear Regan tell her story.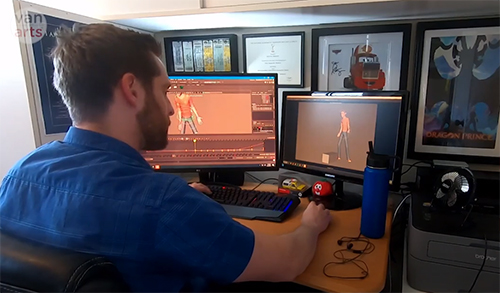 From Cars to Cartoons
Meet Austin Wright, a 3D Character Animation graduate from VanArts now working in the industry. Here he talks about his journey from being an auto-mechanic to an animator, enjoying work on shows such as the Emmy-Award winning DRAGON PRINCE.
Curriculum
Term 1
The first term of the year begins with the principles of animation: Initiating Force, Path of Action, Lead/Follow, Timing/Spacing, Physics and Body Mechanics. The aesthetics of a shot, psychology of line, shape, composition, lighting and colour are covered in Story/Visual Language. Life Drawing is essential for all animation students, as strong drawing skills build confidence and all animators benefit from simplified structural drawing for planning animation. 3D animators learn Maya Fundamentals in animation interface, preferences and file management, and basic modeling is introduced for creating props and environments. Photoshop is introduced to support assignments, presentations, and texturing, and the History of Animation is offered for an in-depth look at how the art form has evolved.
Timing/Spacing Physics & Body Mechanics Path of Action Lead/Follow Initiating Force
Term 2
Term 2 advances the study of animation through more detailed body mechanics and introduces acting, character awareness, thinking and dealing with the environment to strengthen content believability. Story/Visual Language advances to deal with the psychology of cinematic image, acting and story structure while storyboarding assignments prepare you for Term 3 assignments and Term 4 demo projects. Life Drawing continues, advancing body construction awareness and dynamic posing. In Maya class, organic modeling is taught using existing character models, building clothing, hair and props that will support your storytelling efforts through character animation.
Storyboarding Adobe Premiere Harmony Maya Body Mechanics
Term 3
Acting and Performance is the focus of Term 3 animation assignments. The course takes an innovative look at 'the animator as actor' role. You will observe students from our Acting Department, studying their body language, timing and interaction. Dialogue, sound FX and music are introduced. In Story/Visual Language you will develop, storyboard and create assets for your Term 4 demo project. Workshops in Adobe Premiere prepare you for creating, editing and adding audio to story reels and final projects. Life Drawing advances body construction awareness and dynamic posing. The application of techniques learned in Maya 1 and 2 aid in the building of sets and character assets for the short story project.
Character Performance Pantomime Dialogue Editing & Audio Dynamic Poses Asset Building
Term 4
The term is for honing Character Animation skills while creating your Character Animation demo reel. You have a choice of completing a short film, as designed and story boarded in Term 3, or completing a sequence of assignments to strengthen your skills as a character animator. Harmony classes introduce software components specific to your film project. Lighting and rendering are taught in the Maya course to help enhance the visual presentation of your demo reel project, as well as providing visual polish on previous animation assignments. Life Drawing advances body construction awareness and dynamic posing to help strengthen your animation poses. You also explore artistic expression through line and proportion.
Check out our Animation Playlist on YouTube for samples of student films & demo reels.
Honing Skills Lighting Rendering Demo Reel
Faculty
Wayne Gilbert
Head of 2D/3D Character Animation
About
Wayne Gilbert
Head of 2D/3D Character Animation
Wayne Gilbert has worked in the industry for 35+ years on films ranging from Star Wars to Care Bears, including Rock and Rule, The Mummy 2, Pilsbury Doughboy commercials, 7 TV specials and video games Bounty Hunter, Skate and Skate 2.  His credits include Sr. Animation Director, Sr. Lead Animator and Art Director having worked at studios such as Nelvana, ILM (Industrial Light & Magic), Walt Disney Canada and EA Black Box. Wayne has lectured internationally at post-secondary schools and professional venues, won 2 Clio Awards, created 5 animated short films (including the award-winning Let Go), and has authored several books (including Simplified Drawing for Planning Animation and Planning Character Animation: 3D-2D). His personal work is focused on writing and story development for film.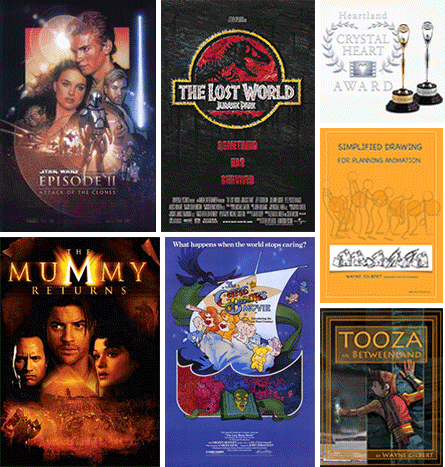 Charles Phillips
Instructor
About
Charles Phillips
Instructor
Charles is an accomplished animator, historian and certified Harmony Instructor, who studied film-making at John Abbott College's Creative Arts Program in Montreal in the early 1980s and also attended the Sheridan College Classical Animation Program in Oakville, Ontario. His many credits for television series and commercials were earned at studios in Montreal and Toronto, and on various independent projects in Vancouver. His eclectic background includes experience in radio broadcasting, as well as comic book and anime wholesale distribution. Charles is a cornerstone of the school, having initially worked underneath Lee Mishkin, Academy-Award winning founder of VanArts' Classical Animation Program.
About
Daniel Laszlo
Instructor
Daniel Laszlo is a graduate from the VanArts 2D Character Animation program, and has since worked in the Vancouver area for Bardel Entertainment, Atomic Cartoons, Titmouse, and Wild Brain, on an assortment of series for television and streaming. These character and effects animation credits include Pirate Express, Littlest Petshop, Cloudy with a Chance of Meatballs (TV Series), My Little Pony: The Movie, Archibald's Next Big Thing, Chip and Potato, & Trolls: The Beat Goes On! His personal drives are studying the masters of old, and exploring visual storytelling in various mediums.
About
David MacLeod
Instructor
David is a graduate from the early days of the Vancouver Film School. He's worked for companies such as Rainmaker, Bardel, Heavy Iron Studios, Relic Entertainment, EA, Disney Interactive, and Sony Animation. David began his career on some of the very first CGI-animated television shows, such as Reboot, Beast Wars, and War Planets. At THQ, he worked on Sponge Bob SquarePants, the Dawn of War series, and Space Marine games. David supervised and directed the animation for the award-winning Company of Heroes series, the number one highest-rated real-time strategy game of all time. Returning to TV and film, he worked on Escape from Planet Earth, Ratchet and Clank, Open Season, Scared Silly, Surfs Up 2, as well as Imaginary Mary and number of the Barbie/Mattel DVDs. Born in Vancouver, he has a passion for west coast camping and is an avid angler, fishing from Vancouver Island to Haida Gwaii.
About
Fernando Gil
Instructor
Fernando Gil has over 25 years of experience in illustration and animation as a Senior 2D Animator, Supervisor and Creative Director for commercials, TV series and feature films in Mexico and Vancouver. He has worked for studios such as Atomic Cartoons, Titmouse and clients like Disney, Dreamworks and Sony Imageworks.
Kevin Stevenson
Instructor
About
Kevin Stevenson
Instructor
For over 25 years Kevin enjoyed a career as an illustrator & graphic designer in Edmonton, AB holding senior positions at several local software and design studios and eventually operating his own design studio and business for over a decade.
A decision to follow his true passion for animation led him to the West Coast and is a graduate of the 3D Character Animation program at VanArts. Immediately after graduating, he started his career as an animator at Rainmaker Entertainment (now Mainframe Studios). Quickly rising to the position of Lead Animator, he has worked on several award-nominated TV series from Bob the Builder (including the European theatrical release "Bob the Builder and the Mega Machines"), the Netflix series SpyKids: Mission Critical and Barbie: Dreamhouse Adventures, along with the Kids Screen award-nominated series for DreamWorks TV Animation – Madagascar: A Little Wild.
Kevin continues to work at Mainframe now as Animation Director for the Mattel Series We Are Barbie for Netflix. Outside of animation he's an avid sports enthusiast with a love for the "beautiful game" of football (soccer here in Canada) but anything to keep active. Illustration and watercolour painting are still passions to be pursued when not keeping up with his busy teen-age children's activities.
Scott Hastings
Instructor
About
Scott Hastings
Instructor
Primarily a visual artist producing illustrations, graphic designs, motion graphics, websites, and video production, Scott Hastings is also an active musician and entertainer. Some of his contracts include Layout & Design for Rogers Communications, Graphic Design for Actress Rebecca Romijn, Album Designer for Ludwig Recordings, and Producer of an animated explainer video for MS Filter Systems Inc.
Scott's career started at the Gulf Islands Film & Television School as 3D Animation Program Manager, Soundtrack Composer, Video Mentor and co-producer of the school's official YouTube Channel launch. He won awards for his short 3D animated music video Frog Song and created opening credit animations for the documentary Contact the People (2002 Sundance Film Festival premiere), Sound design for National Film Board short films Suckerfish by Lisa Jackson and The Collector by Kassia Ward, and Richard Reeves' camera-less animated film 1:1.
Thomaz Magno
Instructor - Life Drawing
About
Thomaz Magno
Instructor - Life Drawing
Thomaz Magno has been drawing professionally since 2006, starting as a graphic designer in Brazil.
In 2010 he moved to Canada to pursue a career in animation, and here in Vancouver he has worked full-time for animation studios such as Icon Creative, Titmouse, and Atomic Cartoons as a designer and concept artist.
He has participated in traditional live painting and online competitive digital speed painting forums,
illustrated two published novels, works on sculpting in clay and VR, and freelances from his home studio working on concepts for clients like Framestore NY and Spark Animation.
Overview
Program Duration
12 Months
Next Start Dates
March 11, 2024
September 3, 2024
March 10, 2025
September 2, 2025
Studying animation at VanArts places your focus specifically on character animation through body mechanics and performance, and strong foundation training in modeling, lighting, character building and story/visual language.
Choose your stream: 2D (using ToonBoom's HARMONY) or 3D (using MAYA). Both softwares are the industry standard for work in animated feature films and TV series. If you want to be a professional CHARACTER ANIMATOR, this is where you belong.
Skills You Will Learn:
• Character animation & storyboarding
• Body mechanics, pantomime, dialogue, & performance
• Harmony (2D) or Maya (3D)
• Adobe Photoshop & Premiere
• Life drawing
• Short film & demo reel production
Career Opportunities:
• Character Animator
• Character Designer & Build Artist (Harmony)
• Storyboard Artist
• Layout Artist
PTIB Approved
This program has been approved by the Registrar of the Private Training Institutions Branch (PTIB) of the Ministry of Advanced Education, Skills and Training.
Degree Pathways
VanArts has articulation agreements in place with several well established universities/colleges in Canada, the USA, Australia, New Zealand and the UK. These degree pathways allow you to complete your bachelor's degree in as little as one year after your studies at VanArts. This gives you the advantage of two credentials; a professional diploma and an undergraduate degree. These partnerships may not only save you money in tuition cost, but allows you to transition easily from VanArts to the partner institution while continuing your educational pathway in your chosen field of study. For international students, completing your BA degree in as little as two years of additional study with our local university partners provides you with the option to apply for a Canadian work permit, which may lead to permanent residency or Canadian citizenship. This list represents the pathways, universities and specific degrees available for graduates of 2D/3D Character Animation at VanArts:
Tuition Costs
International
$36,750.00 CAD
Additional Information
Payment Schedule
10% deposit upon acceptance to hold your seat
40% six weeks prior to start date
50% by end of Term 1 (3 months into studies)