Web Students Bring Their App to Kickstarter
Students in our Web Development & Interactive Design program are merging their skills to create an app for organizing board game meet-ups. It's called Board Buddies, and they are taking their idea to Kickstarter.
Board Buddies was born out of a desire to create a free and interactive web app for iOS and Android that would allow users to host and join in on board gaming events in their community. The students have formed a company and a campaign to raise $35,000 for further development of its functionality and capabilities.
Using Learned Skills in Development, Design & Marketing
The students are using all of the skills that they have learned at VanArts over the course of their 12-month program, including coding (building a database for the app and a companion website), design (user experience, logo creation) and online marketing (social media strategy, press release, user engagement, and even conversion rate optimization).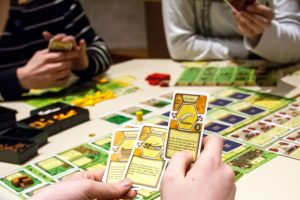 The ambitious nature of this project is an extension of the entrepreneurial mindset that is taught and encouraged in the program, under the guidance of instructors like Patrick Sauriol and Department Head Nathan Leggatt.
"The best kind of online businesses usually arise from a need to solve a gap in the marketplace, and having a passion for the subject matter," said Patrick Sauriol, the business and marketing instructor at VanArts. "Board Buddies meets both of those criteria. This is an exciting idea that our students have fully realized."
Check out the official Kickstarter page for full details and to lend your support! Special thanks also go to Smitty Miller in our Broadcasting & Online Media Department for her invaluable assistance in producing the campaign's promotional video.
Contact us today to learn more about the Web Development program at VanArts.