What You'll Learn
Course Info
This course will introduce you to the self-tape audition process from commercial auditions to actor & principal role auditions. Modern film & television scripts, improv and on-camera practice will develop skills an actor needs for this very specific kind of work. You will gain more confidence and skills that will take your audition to the next level: booking it!
Instructor: Richard Keats
Schedule: 2 Saturdays, 10:30am to 2pm
Pre-requisites: Acting for Film & TV Level 1 or equivalent experience
Tuition: $200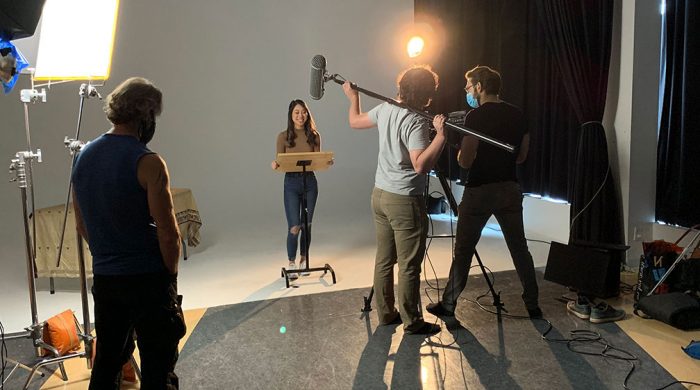 Terms & Conditions
Please note: This program does not require approval under the Private Training Act (PTA). Students may not file a claim against the Student Tuition Protection Fund with the Private Training Institutions Branch (PTIB) regarding this program.
Terms & Conditions
Tuition
Tuition is due in full at the time of registration.
Tuition is not protected by PTIB's Student Tuition
Protection Fund. For more information visit:
www.privatetraininginstitutions.gov.bc.ca/students/student-tuition-protection-fund
Cancellation
In the event that VanArts cancels a part-time program, all registrants for that program will receive a full refund.
VanArts may cancel a part-time program if enrolments do not reach our minimum capacities.
Refund Policy
There is a non-refundable cancellation fee of 20% of the part-time program tuition.
Written notice of withdrawal to admissions@vanarts.com is required.
Non-attendance without written notice does not constitute eligibility for a refund.
Refunds of the full program tuition, less the 20% cancellation fee, will be granted up to seven calendar days before the start date of the part-time program.
No refunds will be granted less than seven days before the start date of the part-time program.
About the Instructor
About
Richard Keats
Instructor
Professional highlights include: Head-lining in the Cult feature, "APEX" that received a U.S. nation-wide release from Republic Pictures and a complimentary review in Variety. During this time he Stared in Kellogg's famous Crunchy Nut Commercial "Canyon" that ran for over 5 years World Wide. These 2 roles were the answer to a Hard Rock Cafe 'London' napkin trivia question. He's appeared in over 50 National commercials and was the face or voice of many corporations.
Starring in the short film, "The Beast" with Roscoe Lee Browne & Martha – the 'chimp' from the Clint Eastwood Movies. Mimi Rogers played Martha's voice. The short film was nominated as one of the five finalists in the Main Draw at the Cannes Film Festival.
In 'I Got the Hook Up' with Master P & Joe Estevez. That Miramax picked up for a U.S. theatre release.
And in the German Feature, 'Marlene' – where he played Travis Benton her flamboyant costume designer.
Tuition
International
$200.00 CAD
Additional Information
International Students
Please note that letters of acceptance are not issued for part-time courses, that the course may be cancelled if student enrolment is low, and that we advise any international students signing up for part-time courses to only do so if they are currently residing in Vancouver or if this course is not their sole purpose for visiting.