VanArts is proud to present a re-posting of this article about Vancouver by Broadcasting & Online Media student Alexis Hart. If you are an upcoming student getting ready to move to Vancouver, we hope this will inspire you with some awesome things to look forward to. Check out the original article and many more student pieces at the VanArts Radio Blog.
More Life: Vancouver Edition – by Alexis Hart
Isn't it funny how most people spend all of their vacation time away from their own country? While traveling, most people I met had traveled and experienced more of Canada than I had. And I live here. To scale it down even more, isn't it funny how so many never explore their own city? I'm one of those people. To be honest, so are most of my friends and family.
I think there are numerous reasons that so many people never spend any time exploring their own city, or the surrounding areas. "It'll always be there", "I'll have time later", "After I visit ___, _____, and ____". I don't want to get too deep here, but you may not have time later. We live in a beautiful province, in an amazing country. GO EXPLORE!
One of my goals for 2017 is to experience Vancouver like a tourist. Google "top things to do in Vancouver" and actually do them. I want to do the same thing with the rest of the country, but that list will be for another day.
On that note, I've compiled a list of 5 places in and around Vancouver to visit; and the top things to do while there based on my own personal experience as well as my research for things I want to explore/experience.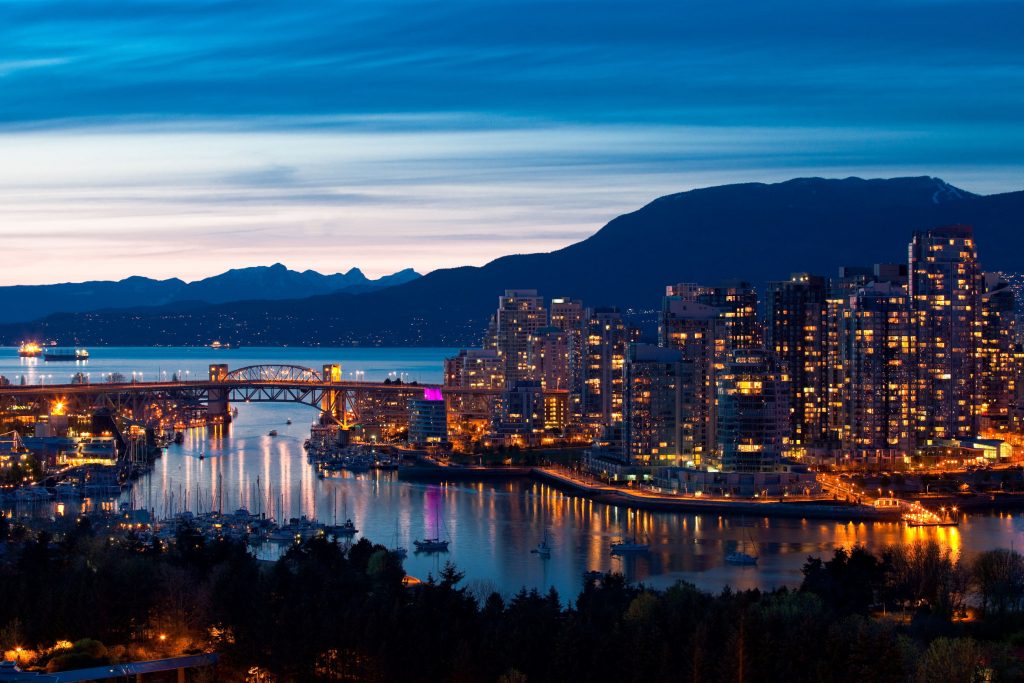 #1 Vancouver (obviously)
Vancouver is an urban and natural playground, boasting mountain views and sandy beaches.
Top things to do in Vancouver:
Walk across the Capilano Suspension Bridge.
Visit Stanley Park and bike along the infamous seawall.
Vancouver Lookout: 130 meters up is the perfect place to check out the city.
Granville Island: a great view of the bridges to downtown while browsing the market. Don't leave without eating some delish fish + chips…or chowder…or both.
See a concert at the Commodore. A small, intimate venue that has proven to be my personal favorite to see artists. (Also a great place to discover new artists.)

#2 Whistler
The drive from Vancouver to Whistler is a sight to see on it's own, but on your way, you should stop near Squamish and check out the Sea-to-Sky Gondola — and the Summit it leads to.
If you're feeling particularly adventurous, instead of taking the Gondola, you can hike "The Chief" for the same views. The Chief is an intermediate hike with a 600 meter elevation gain. It's 11 km round-trip and takes about 5-6 hours depending on the hiker.
Want a rest area stop with a view? Shannon Falls Provincial Park is your answer. Shannon Falls are only a 5 minute walk from the parking lot. Perfect for stretching your legs before continuing the drive to Whistler.
Top things to do in Whistler:
Ski/snowboard Whistler Blackcomb – the largest ski resort in North America
Ride the Peak 2 Peak Gondola – a record breaking 4.4 kilometer elevated ride between the two mountains. On a clear day the view is spectacular.
Walk around. Seriously. Walk around the village and the surrounding trails. Whistler is a beautiful little town.
Plan a hike – the Whistler Train Wreck, or Brandywine Falls are both relatively easy/short. Want a full day or weekend adventure? Plan one to Black Tusk, Garibaldi Lake, or Panorama Ridge.
If golf is your thing, there are many courses.

#3 Tofino
You don't have to travel across the world to get to beautiful beaches. Tofino has some amazing beaches, and great surfing!
Top things to do in Tofino:
Have a beer at Tofino Brewing Co.
Better yet, fill a growler at a brewery then sit on the beach and drink it. Maybe around a bonfire? Season depending, of course.
Surfs up dude, duh.
Rent a cabin – spend your morning surfing, or hanging at the beach and the evening finding a spot to eat. (Tofino is small – but it eats well)
CHILL OUT – we don't do enough of this, do we?

#4 Chilliwack
I'm a little biased here – I grew up in Chilliwack. I have a big ole soft spot for the place, even though all I ever wanted to do was move out of it. Chilliwack is pretty cool though, honestly.
If you like hiking, fishing, kayaking, camping, and lounging by lakes: you will enjoy Chilliwack.
Top things to do in Chilliwack:
Cultus Lake: bring or rent a boat and partake in some water sports, visit the waterslides, play mini-golf, or just lay by the lake and get a tan! It's a great spot for a day trip.
Eat at the Yellow Deli. They have the best homemade soups and sandwiches! What's cool about the Yellow Deli is they grow their own produce, bake their own bread and then use these products at the restaurant. It's fresh, local, and deeee-licious!
Visit Dickens Sweets and British Museum. Have tea and a bite to eat, served in a proper English fashion. Then take a gander around the museum.
Drive to Bridal Falls – a short drive and a short hike will get you to Bridal Falls, a waterfall that cascades from 60 meters above.
While you're near Bridal Falls – head to Harrison Hot Springs.
Camp at Chilliwack Lake – it's a bit of a drive down, but worth the true camping experience.
Hike Teapot Hill, Lindeman Lake, Elk Mountain. Listed in order from easiest to hardest.

#5 Banff (Alberta)
This is a bit more of a trek than the rest of the list, but worth it. Banff is right in the middle of the Rockies, and one of the most breathtaking spots in Canada.
Top things to do in Banff:
Ski/Snowboard
Grotto Canyon Icewalk – hike on a frozen creek and explore rock formations.
Go to Lake Louise and Moraine Lake – known for their electric blue glacial water.
Explore the surrounding areas for waterfalls during a hike. Johnson Lake, Eiffel Lakes and Boom lake are a few great options.
Take part in a Discover Grizzly Bears tour – a chance to see Grizzly Bears in their natural habitat.
Relax in a hotel in the busy hub of Banff, or head to Lake Louise, where a little solitude can be found without a town surrounding.
#Goals : Complete this list by December 31, 2017.
Written by: Alexis Hart