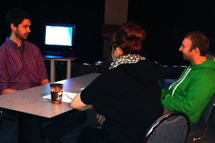 VanArts was very glad to receive a visit today by local VFX studio Image Engine's Recruiting Coordinator Jimmy Ockey along with Roto Lead Jackie Mills, who came in to interview our senior VFX students and a few recent graduates.
Image Engine has visited our school on several occasions to give presentations and information on how to apply to their studio, and we are very proud to have this strong relationship with them.
Thanks for spending time with our students as they prepare for the industry!
Related Stories:
Image Engine Visits VFX Students