Unfortunately, the Rotary Career Symposium in Winnipeg we are registered to participate in leading up to the date of our info session has been postponed, due to advisories and precautions for the COVID-19 virus.
Therefore we are postponing our info session, and will update our website when we find out the dates we'll be coming back.
Attend our Free Info Session in Winnipeg to learn about exciting careers in the visual, media and performing arts, and how the one-year programs at VanArts can get you there. For 25 years, we have been helping artists launch successful careers.
Vancouver is the #1 city in the world for animation & visual effects, and a leading centre for video games, tech, film, and new media opportunities.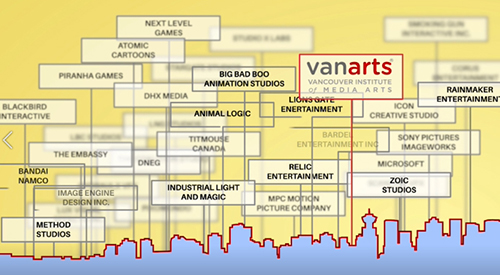 A Variety of Programs and Careers
Programs for Animation, Game Art & Design, Visual Effects, Acting, Web Development, Photography and Broadcasting & Online Media will be covered, highlighting faculty & students, graduate success stories, how to apply and getting your career started.
When: TBD
Where: Delta Winnipeg – 350 St. Mary Ave, Winnipeg MB