Program Duration
12 weeks
Next Start Dates
September 20, 2018
What You'll Learn
Course Info
In this popular course, you will learn the basics of modeling, lighting, texturing and animation using Maya, one of the most popular 3D software packages in the industry. Students will gain an understanding of the interface and capabilities of Maya, as well as basic principles of movement and models.  Projects cover topics such as shape deformation, basic polygon modeling and UV mapping, intro to set up layers and organize a project work flow, lighting and photo-realistic rendering, camera set up, character animation with F-curves, controllers and inverse kinematics. Final projects can be output to a USB or hard drive. Students provide their own backup media and are responsible for archiving their projects.
Thursday evenings
6:30pm to 9:30pm
Registration Open for Fall 2018
Week 1: Intro
Week 2: Poly Modeling
Week 3: Nurbs Modeling
Week 4: UV Texturing
Week 5: Lighting/Rendering
Week 6: Animation
Week 7: Particles
Week 8: Intro to Rigging
Week 9: Final Project Texturing
Week 10: Final Project Animation
Week 11: Final Project Lighting
Week 12: Review and Critique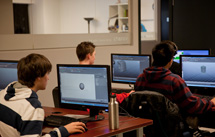 About the Instructor
About
James Hebb
Instructor
Jim is one of the founders of The Embassy in Vancouver Canada. The Embassy has been responsible for many world class visual effects including stunning work on Iron Man, District 9 (Academy Award nominated), Cowboys and Aliens, Battle L.A., Battleship and numerous other films and high end commercials. Prior to that he worked at Rainmaker Entertainment Inc..  Jim adds decades of experience and expertise from his own artistic work as well as business experience.
Tuition
International
$695.00 CAD
Additional Information
Audits are welcome. Contact Admissions for details.
International Students
Please note that letters of acceptance are not issued for part-time courses, that the course may be cancelled if student enrolment is low, and that we advise any international students signing up for part-time courses to only do so if they are currently residing in Vancouver or if this course is not their sole purpose for visiting.