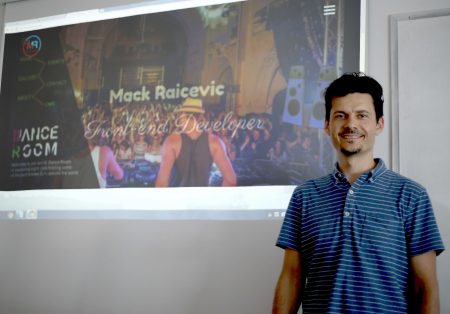 VanArts is proud of our recent graduates in Web Development & Interactive Design who are now taking the world by storm and getting hired – even before the ink dries on their diplomas.
Meet "Mack" Raicevic
With a background in Business Administration and a passion for music and the arts, Marijan "Mack" Raicevic enrolled in VanArts to take his career in a new direction. Despite having no experience with web design or programming, the mix of creativity and logic present in the lucrative digital industry appealed very much to Mack. He successfully juggled family life with a busy college schedule along with numerous freelance projects which saw him redesign websites and delve into front-end and back-end roles for local start ups.
Before graduating, Mack secured a Junior Web Developer role with Pace Creative headquartered in Gastown, Vancouver. His first day of work with the digital agency, which sees him developing creative responsive websites, was on the same day he graduated. Visit him online at mackraicevic.com
Meet Tammy Duarte
Tammy came from Brazil with a Bachelor in Publicity & Advertising, plus 4 years of marketing experience. Upon moving to Canada to study English, she discovered our Web Development & Design program. After taking a school tour and auditing a class, she couldn't wait to get started!
In her own words, "The environment at VanArts is great; you meet people from all over the world, the instructors are all from the industry, and besides your own work station, they provide any kind of equipment you can imagine. As an international student, it was also important for me to have people I could count on, and VanArts helped me with everything from housing to other issues that come from living far away."
With only a two weeks left to go in our one-year program, thanks to the recommendation of her instructors, Tammy landed a design internship here in Vancouver at York & Chapel. She is now there full-time and loving every minute of it.
Check out her professional website at tammyduarte.com
Launch Your Own Web Career
The time is now to get trained for in-demand careers in web development and design. eCommerce is one of the biggest growing parts of the industry. In 2016 it's estimated that $1.92 trillion dollars will be bought online by consumers.
Contact us today or start your application now >>