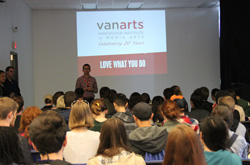 VanArts had a great visit today by 44 students from North Vancouver School Disctrict's DIGITAL MEDIA ACADEMY (DMA) located at Argyle Secondary. The DMA Program, led by instructors Murray Bulger and Ryanne Bergler, is a hands-on program for high school students who want to learn subjects like film, visual effects, game design, animation, photography and web design. As these are all things we love and teach here at VanArts, it's a natural fit so we were thrilled to welcome these bright young students to our campus. 
Students got to sit in on classes for photography, acting for film & TV, web development, visual effects, game art & design and character animation at VanArts, observe demonstrations and hear from our Director of Admissions Shane Moore about our career-training diploma programs, degree pathways and upcoming events. It was an awesome morning, and we hope to see these young artists back roaming our halls very soon. Our lead animation instructor Mark Pudleiner has been a great support in helping to coordinate this visit and keeping our two schools connected, so thanks Mark! 
A few students from the Digital Media Academy have already enrolled with us here at VanArts after their high school graduation, and after one year of study with us, have already started their careers in the industry. Argyle/VanArts grads Michael Royce and Norvan Saguiped are respectively working at Rainmaker Entertainment and Bardel Entertainment right here in Vancouver, where opportunities abound for the media arts.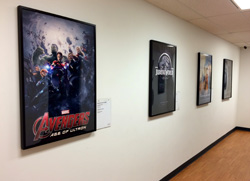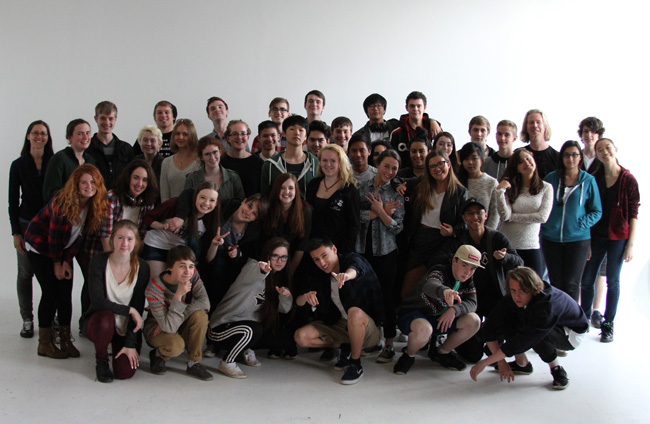 Check out more photos & videos from our visit on Facebook, Twitter and Instagram. 
Want to audit a class or learn more about study options for high school students? Contact Us Today.