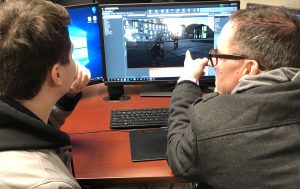 Showing Their Stuff to the Industry
Our Game Art & Design program has always prided itself for nearly 20 years on teaching students how to create fantastic art assets for video games, but as of late, we have literally taken things to the next level! Within their second term of study, our students single-handedly create their own game levels from scratch, as preparation for the third and fourth terms when they expand into group projects and work as a team.
Lead instructor Izmeth Siddeek, himself a veteran of the gaming industry with experience at Capcom, EA, and Bioware, invited his colleague Roy McCombe, Lead Gameplay Designer at Blackbird Interactive, to come in and see what our students were producing. Roy brought along a team of four other Blackbird employees in art (Liam Smyth – VanArts graduate), design (Sean Yourchek & Stylianos Avramidis), and development support (Jeremy Powell). In our top-floor lecture theatre, the team listened to the students' pitches and presentations, which outlined the full concept, production pipelines, and what they discovered as their strengths, weaknesses, and learning curves throughout the whole process. The Blackbird artists gave valuable feedback and advice, and even popped into the game art lab for refreshments and further discussion of their work.
True Passion Projects
Of the projects shown, several of them were solo projects executed by individual students as part of their "comic book assignment." This involves choosing a popular comic character like Tintin, Iron Man, or Deadpool, and creating a fully-fledged playable game level from start to finish, all in just six weeks!
The other presentation for Blackbird was a group project executed by a team of five students in their final term of study. Entitled Descend, the fully playable game has also been created within a 6-week time period by a diverse quintet of students from Canada and India. Working under their own company name of Twinspell Studio, the team has grand ambitions for Descend, with an aim to develop the game further after graduation and seek out investors. The students are so passionate about this project, they have even turned down job offers in the industry so they can focus on it!
In this video, hear what Blackbird Interactive's Roy McCombe had to say about the students' work, and see samples of the game presentations that were shared.
The Descend team also worked with their entire class on the game Souls of Torrine in their third term of study, which gave them the tools they needed to make their own game as awesome as it could possibly be. Check out our full coverage of this game here.>>
This is only the beginning of great things we foresee in the future of these talented students, and the hard work and passion they pour into these games. Keep coming back for more, and if you're ready to join the next generation of game innovators, talk to us today.