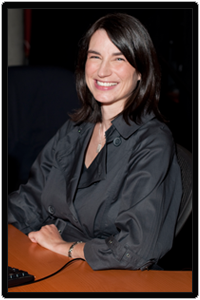 VanArts gives a shout-out to our Visual Effects instructor Janeen Elliott, who has been nominated for a VES (Visual Effects Society) Award for Outstanding Compositing in a Feature Motion Picture. Her nomination is for her work on Elysium as Senior Compositor at Image Engine, and she is heading down with her team to Los Angeles for the awards ceremony on February 12th.  Janeen's previous VES accolades in this same category include a 2007 nomination for Poseidon and a 2010 win for District 9. 
Janeen teaches compositing at VanArts, and has worked at studios such as Industrial Light & Magic and Image Engine for over a decade, on films including Star Wars - Revenge of the Sith, Iron Man, The Incredible Hulk, Watchmen, White House Down and many more. 
Congratulations and good luck to Janeen and her team! 
Related Story: 19 VanArts grads work on Elysium >>