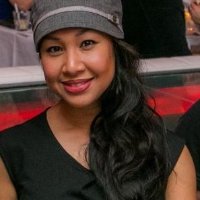 Ever get an unexpected e-mail from someone that just makes your day? We got one this week from our Visual Effects graduate Niña Laureles...
Just wanted to say THANK YOU!!! Graduated 5 years ago (tomorrow) from VanArts, and I'm still in VFX. Thanks for helping me get to where I am. 
Cheers,
Niña
Since graduating from VanArts in 2010, Nina has worked at Rhythm & Hues, The Embassy, Rainmaker Entertainment, Method Studios, and currently as an FX Technical Director at Framestore-Montreal. Her feature film credit list includes films such as J. EDGAR, ABRAHAM LINCOLN: VAMPIRE HUNTER, ELYSIUM, EDGE OF TOMORROW, DRACULA UNTOLD, PADDINGTON, JUPITER ASCENDING, and the upcoming PAN. See her full IMDB credits here. 
Thank YOU Niña for taking the time to send us such a heartfelt message! We're proud of you!