VanArts is saddened to learn that the 73-year old Art Institute of Seattle will be shutting its doors as of this Friday. #AISeattle is a major arts school in the northwest, producing hundreds of talented students each year. Many of their programs cross over with programs that VanArts teaches. Our hearts go out to the instructors and support staff now without a job.
We have read and watched news stories showing AI students scrambling to find out how they can finish their education. International students have it even worse, with a 60-day window now counting down until American law requires them to exit the country unless an alternative school can be found and accepts them.
VanArts as an Alternative to AI Seattle
The VanArts admissions team would like to offer our school as an alternative for all affected Art Institute students. If you are now in the undesirable position of seeking a new arts school to continue your education here is how VanArts can help:
VanArts is a two-and-a-half hour car ride from Seattle. Our school is located in Vancouver, Canada, a half-block from major bus and mass transit (Skytrain) locations.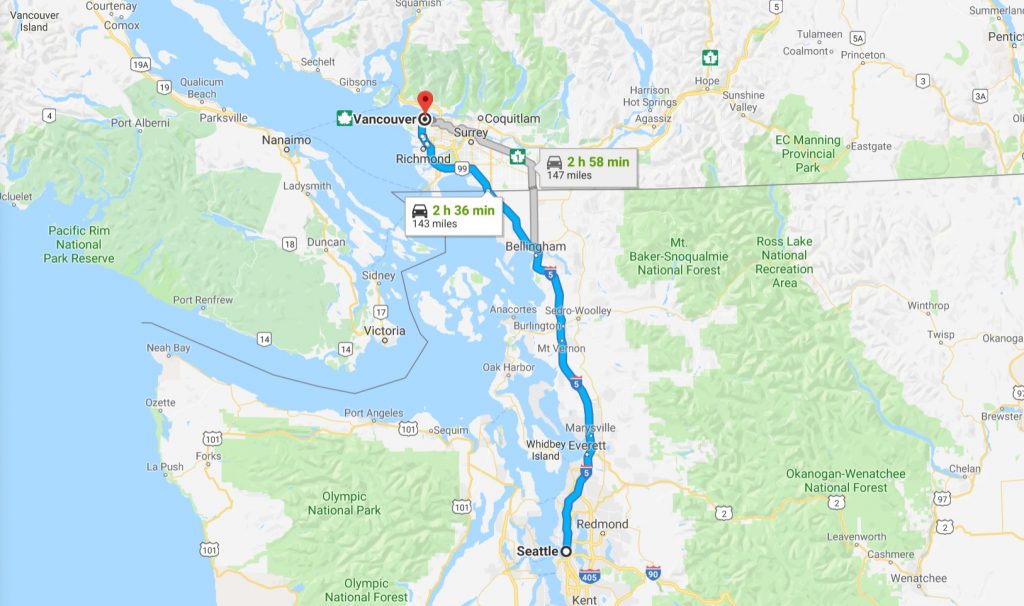 Google Map of car ride time from Seattle to Vancouver.
Even though we're in a different country, Vancouver shares many of the same characteristics of Seattle: weather, culture, an arts scene that's similar in many ways, and even some shared identity.
Our tuition prices are in Canadian dollars, which means a 30% difference in your favor for the cost of your education.
Our Admissions team can help you find housing and get settled in to their new home.
The start of the new term is March 11. If you can make the move immediately to a new school then you could be starting classes next week. Even if you're unable to attend by March 11 but still want to come, we can work with your specific situation and could allow for a late entry into a VanArts program.
Learning at VanArts Can Help Your Career
Vancouver has dozens of studios with tens of thousands of workers making visual effects, video game development, app and website production, graphic design, film and television production, digital marketing agencies and other similar companies.
Vancouver is the world's largest hub for animation and visual effects (VFX) companies.
VanArts has networking events where you get to meet professionals from these industries.
Many VanArts grads have gone on to work at local studios, agencies or companies.
If you can consider going to school at VanArts, we invite all AI Seattle students to reach out to the VanArts admissions team and ask your questions. The more information that you have, the more choices you have to make a decision with.
Contact us at admissions@vanarts.com or call us toll free at 800 396 ARTS (2787). We would love to help you in any way that we can.
Top image: Screengrab from KIRO TV News coverage of AI Seattle school closure. (Link to story at top of page.)