VanArts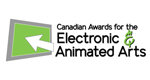 is pleased to congratulate Gordon Moran, winner of the first Elan for Best Visuals for a Video Game at the first annual Canadian Awards for Electronic and Animated Arts (CAEAA). The CAEAA honours Canadian achievements in three sectors: talent development (New Media and Animation Art Schools), animation, and video games. This inaugural event took place on September 14 at the River Rock Show Theatre in Richmond, BC. and was hosted by William Shatner.

Ubisoft dominates the industry video game categories with Peter Jackson's King Kong -The Official Game of the Movie , while Studio B Productions leads the animation categories with a number of their shows. 11 categories (out of a total 37) will recognize students from institutions across Canada, including VanArts.
The following VanArts students (now graduates) have made the finals for student category awards:
| | |
| --- | --- |
| Best Visuals for a Video Game | Gordon Moran WINNER! |
| Best Visuals for a Video Game | Petra Richli |
| Best Visuals for a Video Game | Harshdeep Borah |
| Best Visual Effects | Aaron Brown |
| Best Visual Effects | Daniel Gomez, Rodrigo Echevarria, Karthik Anand Sambandan, Jonah West, John Muller, Matt Miller, Sam Osborne, Pichet Paithoon & PatrickThompson |
For a complete list of nominations, please visit http://www.caeaa.com/index.php/nomination/ .
Congratulations and good luck to all final nominees! We are proud of you!