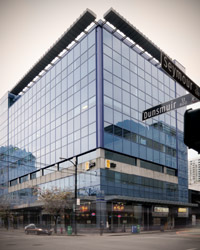 Welcome to another episode of our unfolding Throwback-Thursday history of VanArts! 
In our last look back at the VanArts story, we were nestled at our Pender Street campus with new programs in Photography and Acting now part of the family. This brings us now to the year 2010, our 15-year anniversary year and a great landmark time for Vancouver as host of the Winter Olympic Games. A golden opportunity arose for us on July 1st when we moved our campus again – this time around the corner to a glorious new space on 570 Dunmsuir, where we still reign to this day. We moved into the 6th, 7th, and 8th floors with over 24,000 square feet, including our top floor photography studio. (Since then we have also spread the VanArts experience across the 5th floor!)
Having settled well into our new digs, in March 2011 VanArts expanded into new territories of media arts training with the addition of our Web Development & Interactive Design program. With Vancouver becoming an increasing hub for new media technology, bolstered further by our city hosting the SIGGRAPH Conference for the first time that year, it was a natural next step. Now we had students in the building who could learn coding and design side by side, and rub elbows with students in other departments as clients and collaborators. 

Furthermore in June of that same year, our program in Broadcasting for Radio & Television was added to the mix. Based on the foundation of training provided at Columbia Academy for several decades, our campus was set up with a functional radio station and television studio, where students could train hands-on for a career in professional broadcasting. Since then, this program has expanded even further to include broadcasting for the web — in subjects like YouTube video, podcasting and social media. 

More and more, the school's growth as an "institute of media arts" has come into fuller bloom, and all of these programs in Animation, Game Art & Design, Visual Effects, Photography, Acting, Web Development and Broadcasting are still changing lives. With all of these disciplines cross-pollinating in the halls, students and staff at VanArts quickly become family. Each year goes by so fast, but the relationships born here last a lifetime. For 20 years, we've been telling stories of all kinds and branching off to create the art and entertainment the world needs. 


Read the Vanarts Story from the beginning here >>
Want to find your place in the VanArts family and see what all the excitement is about? Contact Us Today!