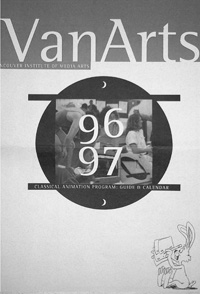 1995. 20 years ago, and the animation industry was booming and buzzing. It was the time of Disney blockbusters like Pocahontas and The Lion King, of Animaniacs and Pinky and the Brain ruling the TV airwaves, and a little film called Toy Story that changed everything. After decades of cheap Saturday-morning kiddie-fare, animation was suddenly cool again, and there was a call for artists to join the club. 
Responding to this wave of animated activity, the Vancouver Institute of Media Arts (VanArts) was officially founded on December 8, 1995 in Vancouver, BC. Our school president Alan Phillips teamed up with the Academy-Award winning animator/director Lee Mishkin as Program Director, with a vision to create an animation program that would change lives and meet the hot demand for new talent. Lee was also initially introduced to VanArts by one of our Founding Advisor/Instructors Bonita Versh, who had worked with Lee as her mentor in the early days of her own long animation career.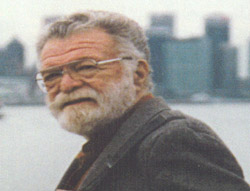 Lee Mishkin had a 50-year career in animation to draw upon, having worked on dozens of shows in Hollywood and Europe. Among his credits were Crusader Rabbit (the first animated series for television), Butterfly Ball (the first animated rock video and British Grierson award-winner), Mister Magoo's Christmas Carol, the Emmy-nominated Faeries, a sequence in Heavy Metal, and even the animated opening titles to the classic Adam West Batman series!  In 1970 he won the Academy Award for Best Animated Short: Is It Always Right to be Right? narrated by Orson Welles. With this wealth of knowledge and experience under his belt, Lee began teaching budding young animation students when classes started up in 1996, right up to his retirement and passing in 2001. 

Lee Mishkin laid the foundation at VanArts for what is still one of the most well-respected animation programs in the world.  As Alan Phillips reflects, "When I think back to the beginning days of the school, it was a unique and fun time — especially having Lee Mishkin as our founding director of the classical animation program. Despite our small size back then, I felt honoured to offer animation education with Lee on board. Anyone who came to study with Lee was indeed very fortunate." 
The first VanArts campus was on West Broadway Street, with part-time classical animation courses offered in the spring and summer and the first full-time class starting in September. Back then, everything was drawn by hand and paper flipped on animation peg boards. The only computer in the room was used to shoot pencil tests! We may call this "old-school" now, but back then it was just how we got the job done. This was VanArts' beginning — and there was so much more to come! 
We will be posting another Throwback-Thursday post every other week leading up to the official 20th anniversary date of the founding of VanArts, unfolding more episodes of our story as it expands from animation to the myriad of art forms we teach today.