Staff and Faculty from VanArts have just returned from spending a week in Mexico, sharing the good news about our programs to students there who dream of a career in the arts. VanArts has welcomed and graduated many students from Mexico over the years who are now making their mark in the industry on a worldwide scale.
Our lead instructor for Game Art & Design Izmeth Siddeek gave a presentation to a full house of over 600 students at Universidad de Monterrey, about his ground-breaking research in real-time motion capture for games. Later in the week, our director of admissions Shane Moore greeted participants at several Expo-Estudiante career fairs in Monterrey and Mexico City, and topped it off with a Free Information Session.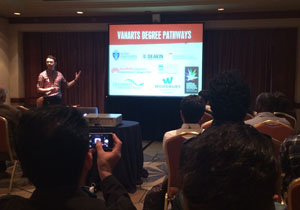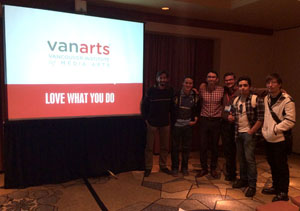 At the session, Shane premiered this video which we are now proud to share online, featuring four VanArts graduates from Mexico who are now working in the animation and visual effects industries here in Vancouver. Play the video to hear what they have to say about their experience!
Want to join us? Contact us today about attending a webinar, auditing a class or applying to VanArts!