In a coincidental twist of fate, VanArts' Digital Photography graduate Jens Kristian Balle recently got to photograph the founder of our Acting for Film & Television department William B. Davis for Vancouver Magazine. The photo shoot was an assignment for a feature on Davis' role in the locally-produced show Continuum, alongside his co-star Richard Harmon. 
For more photos and details on the shoot, visit Jens' blog here >>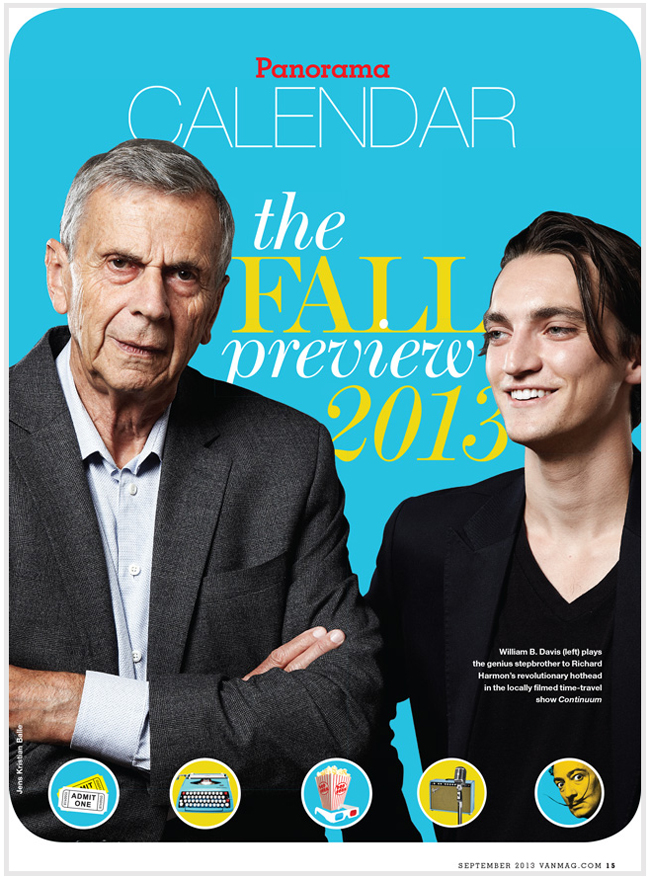 Richard Harmon & William B. Davis for Vancouver Magazine, © Jens Kristian Balle // Photographer
Before becoming "Cancer Man" on the hit TV series The X-Files, William Davis had a long career as a teacher, director and actor. He has been the Director of Canada's two leading acting schools: the National Theatre School and the Vancouver Playhouse Acting School. He was the founding Artistic Director of Festival Lennoxville in Quebec, Director of the Dundee Repertory Theatre in Scotland and Assistant Director at the National Theatre of Great Britain.
Mr. Davis has directed over 100 professional productions at major theatres in Britain and Canada.  He founded the William Davis Centre for Actors' Study in 1989, which since 2008 now offers its highly regarded curriculum at VanArts, where he now also sits on the Board of Advisors.
For more information, see also:
www.williambdavis.com
William B. Davis at IMDB