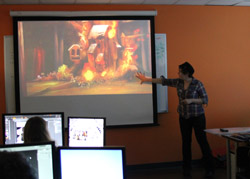 Several graduates of our Game Art & Design program are now working at a new mobile game studio starting up in Vancouver, Archiact Interactive. The studio has launched a KickStarter campaign to support the production of their Little Lamper mobile game which they are currently working on. 
One of our graduates working on the game, Jalyn Euteneier, recently visited our current class of students (left photo) to explain the process of working at the studio and talk about the assets they are building. The company is also hoping to develop a game that Jalyn began to develop as one of her VanArts projects, with a push to put it into production and development. 

Of her experience at VanArts, Jalyn (who is originally from Regina, SK) had this to say: "The VanArts program was awesome, and the instructors were very knowledgable and helpful. I got hired at Archiact when the bosses came to the school on our last day to look at our demo reels, and they contacted me that night to talk about a job offer. I'm now using many of the skills I acquired at VanArts, and everyone was a huge help in getting me here."
Ken Ha, one of Jalyn's classmates hired at Archiact, also had this to say: "For me VanArts was a place to finally get serious and disciplined, with the hopes of getting into concept art. My goal was to get into 3D first and then move sideways into concepts and art direction. After an incredibly intense year, I was offered a position by two different studios, and was blown away that one of them was to work as a concept artist, for mobile games."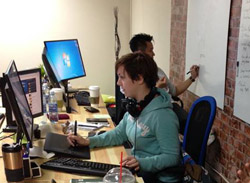 This is encouraging news for students coming to VanArts to study Game Art & Design, as our focus as expanded to include assets for mobile gaming and the current trend of start-up companies growing in Vancouver. 
To learn more about their game launch and its campaign, and to lend your support, check out their video below and visit their KickStarter page here!