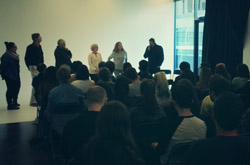 Wow, what a week that was!
We have finally caught our collective breath from the week of March 23-27, 2015, when 34 students from the Ed & Ad Photo Department at our partner school University of Gloucestershire in Cheltenham UK landed in Vancouver to work collaboratively with our Digital Photography Department on a special student project.  The UK students were accompanied by their Course Leader Trudie Ballantyne, and Senior Lecturers Grant Scott and Dr. Sharon Harper. University of Gloucestershire is one of our nine university partners which allow VanArts graduates to transfer credit from their professional diploma towards a degree and the chance to study abroad, so this project was one particular facet of this unique partnership.
Working directly with support from our own staff (Head of Photography Ian McGuffie, Program Manager Jeff Bell, Program Assistant Belle Ancell and Studio Manager Reem Abdel-Jabbar), the combined group of 61 students started on Monday with a creative brief from a local industry sponsor for an editorial ad campaign.  Grouping into teams pairing up students from VanArts & Gloucestershire, the students began brainstorming ideas right away. Some began shooting as early as Monday afternoon and went on well into Tuesday, combing the city of Vancouver and local scenic areas to capture the images for their concept. They went to the mountains, to the beaches and parks, and even hired models or actors to pose for them. Others worked in our top-floor studio space.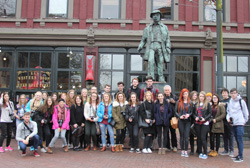 On Wednesday each group pitched their concept and photos before a panel of faculty from both schools for critique, and based on these notes they went to work on finalizing their projects. By Thursday, they finally had a chance to relax just long enough for our VanArts students to hear lectures from the Gloucestershire staff (about their degree program in the UK) and for our own Ian McGuffie to take the UK students on a historic walking tour of Vancouver's Gastown neighborhood. The students also got to experience other local photography gallery shows, including one by our own Lead Instructor David Ellingsen.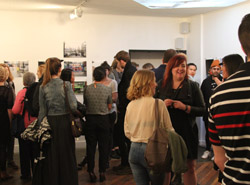 Friday was all about hanging the gallery show at @thisopenspace on Columbia street, and getting it ready for the grand opening and celebration of their work. The whole week was a smashing success, and a great opportunity to connect with our partners in the UK.  We are already talking about doing it again!
Check out this video that sums up the energy, creativity and excitement from the week. Thanks so much to everyone who pulled together to make this "Super Awesome Great" week happen!
You can also check out more photos on Facebook and photos/video from our Twitter feed at #vanartsedandad