Cyberconnect2 Hires Hard-Working Alumni from VanArts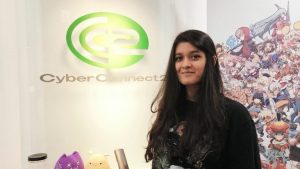 We love hearing stories of our grads and where they are working. Recently we have heard of graduates being hired by Cyberconnect2, a video game studio in Fukuoka, Japan known for its work on the ".hack" series and games based on the NARUTO "ULTIMATE NINJA" franchise.
One of these graduates is Sanjana Bhave from India, who took our Game Art & Design program from 2018-2019 and was part of the team behind the Descend student project. Originally coming from a background in graphic design, after VanArts she freelanced as a 3D artist for companies in Canada and Sweden before re-locating to Japan to work for Cyberconnect2.
In this interview on the Cyberconnect2 website, she talks about her favorite video games and what it's like working for the studio. She shares, "Like many others, I grew up appreciating art from Japan, specifically games and anime. I feel blessed that two of my biggest inspirations as an artist are now a part of my everyday life."
More VanArts Grads Please!
President and CEO of Cyberconnect2 Hiroshi Matsuyama graciously sent us an enthusiastic greeting, talking about how proud they are to have VanArts grads working for them, and what it takes to join their team. The studio has also given online info sessions to our students & alumni to explain how to apply and what they look for in an employee. They also have a studio based in Montreal.
Thanks so much to Mr. Matsuyama and Jun Shan for sharing with us!
If you are itching to work in video games and want to work for Cyberconnect2, talk to our admissions team today about how to get the foundation you need at VanArts.