On December 4th, VanArts celebrated its 20th Anniversary with a special gala evening reuniting over 200 alumni from all of our programs, complete with a red carpet to welcome them back to our campus in style!
With our current Digital Photography students as paparazzi, Acting students as screaming fans and Broadcasting students reporting live on the scene, our esteemed graduates were amazed at the reception before being ushered to our top floor studio to party, mingle and reminisce. Reels of student work from the past 20 years were looping in various rooms to show off the growth in technology and artistic achievement.


VanArts President, Alan Phillips, read letters of congratulations on our 20th Anniversary from British Columbia Premier Christy Clark and Vancouver Mayor Gregor Robertson (read them below), and gave thanks and recognition to our faculty, graduates, and founding advisors – including special guest Bonita Versh, a long-time animator/director who had worked alongside the late Lee Mishkin (1927-2001), our Founding Director.

Included in the screenings of reels was this retrospective on the history of VanArts, from our early foundations to the variety of programs we offer today…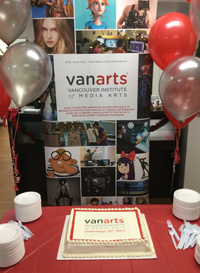 The evening was an incredible celebration of all of VanArts' accomplishments over the years. More details of our history and those who made it happen can be read in our various blog posts taking you through "The VanArts Story" starting with the first episode here.
Huge thanks go out to everyone at VanArts who made this evening a success, from our staff to student volunteers and all of our alumni who celebrated with us.
Check out a full array of photos here on Facebook >>
Here's to an amazing 20 years at VanArts!