And the Leo Award goes to…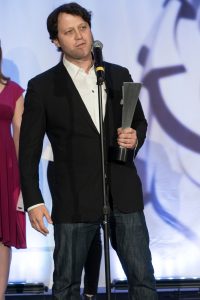 Congratulations go out to VanArts animation graduate Chris Browne, who won the 2016 Leo Award for Best Visual Effects – Short Drama for his live-action short film, Baiting the Abductors. The award-winning film was an independently-produced passion project for Chris, who works as the Studio CG Supervisor at Bardel Entertainment.
After graduating from VanArts in 2001, Chris began working in the local industry on TV series such as Stargate SG1, which led to him starting his own live-action/VFX/animation studio Digital Alchemy Entertainment. After running his studio for 9 years, he moved on to Bardel and has since supervised multiple seasons of TV series for Dreamworks, Nickelodeon, and PBS, including three-time Emmy winner All Hail King Julien, Dinotrux, Veggie Tales, Puss in Boots, Teenage Mutant Ninja Turtles, Monsters vs. Aliens, & Mack and Moxy. Chris also supervised Salma Hayek's prestigious animated feature film Khalil Gibran's The Prophet, which received accolades from TIFF, Cannes and the Annie Awards.
Building Your Animated Network
In his role at Bardel, Chris has supervised many other animators who started off just like he did, as a student at VanArts. Thinking back on his school days which helped him launch his career, Chris shared with us, "VanArts was a fantastic experience and it taught me everything I know about animation, visual effects and film language in general. When you are in a classroom working hard and staying up late with other students, you make friends for life and build a network for your entire career. I am still in touch weekly with the people I went to school with, and we've helped each other get jobs and make our projects better."
Read more about Chris in this interview on Bardel's blog, and check out his Leo Award-winning film below (more at www.baitingtheabductors.com)


The Animation & VFX industry in Vancouver is booming! Are you ready to be a part of it?
Contact Us today to get your career started!