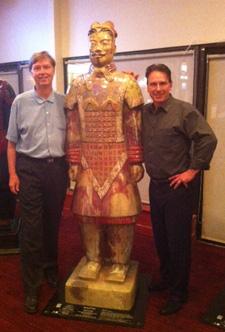 Vancouver's BC Lions Society recently auctioned a series of Terracotta Warrior sculptures from their public art project & fundraiser to benefit children with disabilities in BC and the Yukon, and one of these sculptures has found a new home in the lobby of VanArts.
VanArts' President Alan Phillips (left) successfully bid on the sculpture entitled Aging of Time, seen here pictured with the sculptor & artist, Dean Lauze (right). 33 of these warriors were sculpted in fiberglass and individually painted by different local artists, each with a different theme. The original Terracotta Warriors, discovered by Chinese farmers in 1974, were created over 2,200 years ago by the Emperor of China, who arranged to have a large army of 8,000 of them buried with him to protect him in the afterlife. Lauze's sculpture Aging of Time represents how the sculptures look after being buried for all those years.
Says Phillips, "According to members of the BC Lions Society's Board of Directors, this purchase by VanArts will provide full funding for 30 to 40 children to attend a one-week summer camp next year.  They are very appreciative and I felt very proud that our school could donate to such a worthy cause."  Overall, $170,000 was raised in total at this auction to benefit this charity. 
You can read more about the Terracotta Warriors project at terracottawarriors.ca.