On November 29, 2006, Vancouver ACM SIGGRAPH hosted a special event for Stop-Motion and Computer Animation, featuring VanArts advisor/instructor and author of The Art of Stop-Motion Animation Ken Priebe, stop-motion/CG animators Anthony Scott and Larry Bafia, and Peter Muyzers of Image Engine FX Studios.

The evening consisted of a book signing by Ken Priebe, who also presented animation from his part-time students and a history of stop-motion animation. Anthony Scott (currently at LAIKA Entertainment in Portland) presented a retrospective of his work on films such as The Nightmare Before Christmas, James and the Giant Peach, A Bug's Life and Corpse Bride and several rare behind-the-scenes features. Larry Bafia presented his experience working at Will Vinton Studios on several Claymation television specials and commercials. A panel discussion with all guests plus Peter Muyzers (credits include Corpse Bride and Wallace & Gromit: Curse of the Were-Rabbit) followed the presentations.

Sponsors for the event were VanArts, Sophia Books, Annex Pro and Bride of Wire Studio. Big thanks to all who made it a memorable evening!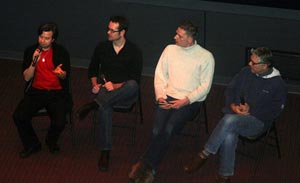 Left to Right: Ken Priebe, Anthony Scott, Peter Muyzers, and Larry Bafia.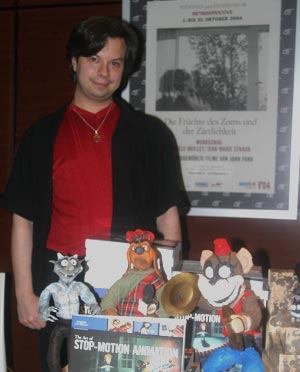 Ken Priebe with his book and puppet creations.