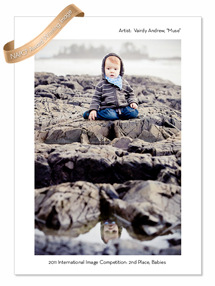 Congratulations to one of our esteemed Digital Photography instructors, Vairdy Andrew, for placing 2nd in the International Image Competition run by the NAPCP (National Association of Professional Child Photographers)! We at VanArts are proud to have professional instructors of Vairdy's caliber mentoring our students.
According to their press release, "The NAPCP Image Competition called for images across a range of category subjects, including maternity, newborn, baby, child, sibling, tween, seniors and family. Andrew competed against thousands of image entries which were carefully judged by a blue-ribbon panel of experts based on impact, technical merit, composition and creativity. Vairdy specializes in candid lifestyle portraiture for families and says she is committed to working closely with each of her clients on clearly understanding their creative vision and producing original imagery."
For a closer look at Vairdy's award-winning photo and more details, visit
her blog
.