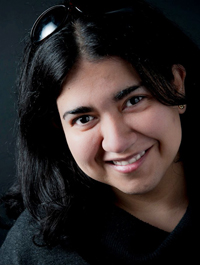 We love shouting out about our graduates in Digital Photography, so we'd like you to meet Kristina Zambrano, one of our celebrated international grads from Venezuela, who recently wrote to us expressing how thankful she is to all of her instructors from VanArts. While previously pursuing a degree in Computer Science and working in web design for three years, it ultimately took Kristina nine years to figure out what she was meant to do, and finally found her muse in the area of pet photography. One year of study at VanArts later, her career has since really taken off!
Kristina's own photography business K9 Studio Photography, which focuses on lifestyle, advertising/editorial and conceptual pet photos, has won her several honors and awards, including a WPPI (Wedding & Portrait Photographers International) 2014 Honor of Excellence Silver Award for her piece "The Butterfly Whisperer" and the Venerable Order of the Hospital of St. John of Jerusalem by the Chair of British Columbia & Yukon Council (for her work with St. John Ambulance's Therapy Dog Division). She's been featured on magazine covers, multiple publications and media, and belongs to several professional photography organizations. One look at her website, LinkedIn or following her social media posts online will tell you just how busy and successful Kristina has been, and we're proud of her!
Kristina was just recently interviewed on the Venezuelan variety show "Women in Charge" about her work, and also on "Mornings with TVES" (click on the CC button for subtitles in English) which are posted below.

Feeling inspired?
Contact Us today to inquire about auditing a photography class or speaking to Admissions about how VanArts can help you launch a successful career in photography.