The Latest & Greatest News from Photography
It's time for another update on some of the success stories coming from graduates of our Professional Photography program…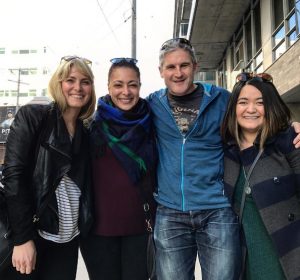 VanArts alumni Reem Abdel-Jabbar and Martina Kopp of the award-winning fashion duo Martina + Reem started out specializing in fashion, portraiture and fine art photography. Their work has taken them through Europe, North America and the Middle East and they now have gallery representation for their Fine Art work and their very own clothing label. Working in Vancouver, Manila and Dubai, their fellow classmate Yasmine Najib has spent the past 6 years honing her skills in photography, writing, graphic & visual design, and art direction. These three successful women have now joined forces to create HAUS WILD, a creative agency in Toronto specializing in photography, graphic design, social media and publishing. Jeff Bell, Photography Program Manager, recently caught up with them while exhibiting at the Applied Arts Creative Futures Expo in Toronto.

Ivan came to VanArts from Mexico with a great sense of style. After honing his technique with our industry pro instructors, Ivan graduated with a stellar fashion portfolio. He has recently been hired at RYU Clothing in Vancouver where he is the primary photographer for their brand. Ivan is now enjoying a career that gives him lots of creative freedom to showcase his skills.
Rodrigo is enjoying a successful career in Mexico City as a Commercial + Editorial Photographer and is currently doing product photography for Amazon. His client list also includes Absolut Vodka, AT&T, Axel Springer Marathon Sports, Metlife, Sony, Bailey's, The American Lawyer Magazine, and dozens more. His selected exhibitions and awards also include wins at PDN Rangefinder and Beaumont Studios.
…and finally, the latest from our graduate, award-winning editorial photographer Jens Kristian Balle, is his portrait shoot of Lululemon CEO Laurent Potdevin. The photo was published in The Wall Street Journal over the summer. Since then, Jens has been back to Lululemon twice to photograph Potdevin for Forbes Magazine and Canadian Business.
Feeling inspired?
At VanArts we specialize in honing your raw talent and passion into a creative life that you will love. Our graduates' success stems from hard work and the knowledge they've gained from our experienced faculty.
Contact us today to learn more or start your application now – next start date is March 13, 2017.