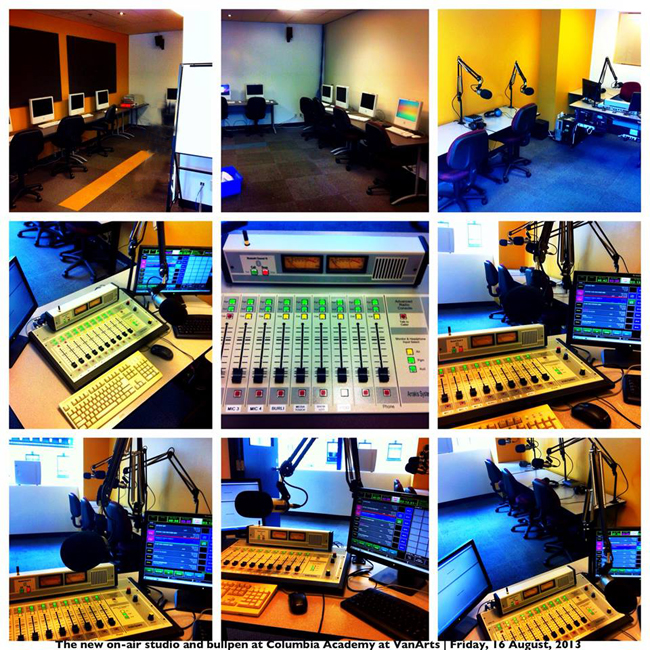 The Control Room (or On-Air Studio) has been completely overhauled including the professional installation of a new ARC-10 Broadcast Console. The ARC-10 by Arrakis is a clean, easy-to-use all purpose broadcast 'board' with four mic inputs, 10-channels, a USB connection ready-to-go for easy access to audio on your mobile device, and is Bluetooth capable allowing you to use your own Smartphone to make calls, take calls and put calls on the air! 
A studio is no good if people can't hear you. So we have four new Rode Broadcaster professional microphones. Rode Broadcasters are large diaphragm end-address condenser mics tailored to give rich full broadcast quality with an emphasized proximity effect. And they are designed with an internal pop filter to minimize plosive sounds that can result in distorted audio. 
The studio has been redesigned with clean sightlines and room-to-grow so you aren't bumping and stepping around your fellow broadcasters. It's ready for you to host a music program or a roundtable talk show — and can accommodate several interview guests at one time.
The Production Studio has been reconfigured with two studio mics and our soundproof isolation booth allowing for more creative freedom while producing commercials, features, demos and projects. 
And "The Bullpen" (the main office where students research, write and rehearse their features before they go on the air) is roomier and more comfortable. Now the room can more easily accommodate a maximum class of 12 people.
Columbia Academy at VanArts is proud of the changes that have been made. But the idea behind the technology is not just to say that we have brand new shiny toys to play with (though that is pretty cool!) By utilizing new hardware and specialty software like MediaTouch, Burli, and Adobe Audition, technology can take a backseat to content creation allowing future broadcasters to concentrate on being the best one-to-one communicators they can be. And that's something Columbia Academy at VanArts has always done. Perhaps some things never change.