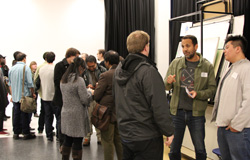 Network, network, network!
We tell this to our students all year long, and when they finally reach graduation, that's when the rubber really hits the road as they are now ready to show off their reels. So this week, our new batch of grads in 2D/3D Character Animation, Game Art & Design and Visual Effects had this opportunity at our annual Industry Night for the Spring 2015 season.
Recruiters, art directors, department heads and artists from local studios in Vancouver were invited to our campus for a private screening of the grads' demo reels with our Head of Animation Wayne Gilbert and Head of Game Art/Visual FX Wade Howie, followed by a meet-and-greet with the grads themselves in our studio. We were pleased to welcome reps from Industrial Light & Magic, Method Studios, Nerd Corps/DHX, Sony Pictures Imageworks, Black Tusk Studios, Electronic Arts, MPC, Koolhaus Games, Atomic Cartoons and Animation Brewery. The demand is high right now in our fair city, with so many of these studios expanding and hungry for more fresh talent.
Big thanks to our industry guests for taking the time to visit our grads! Come back again soon!