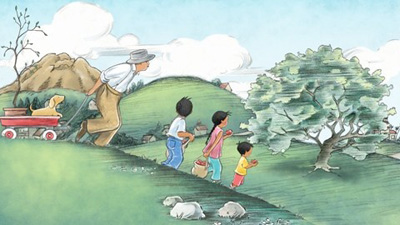 Scholastic/Weston Woods has released a new short film on DVD entitled All the World, based on the NY Times best-selling book by Liz Garton Scanlon and illustrated by Marla Frazee (Caldecott Honor medalist). The beautiful illustrations were adapted to animation under the direction of VanArts graduate Galen Fott, through his own production company BigFott Studios. The film is all hand-drawn, and features narration by Oscar-winning actress Joanne Woodward.

Galen Fott studied 3D Animation with us from 2002-2003, and has directed several short films with the enlisting of other VanArts people to work on the animation. The new film All the World includes work by current animation student Steffrie Akers and instructor Ken A. Priebe, plus animation graduates Bridget Bougan, Emily Merl, Todd Wheeler, Kevin Yowell and Micah Baker.
 Visit the official page for All the World at the BigFott Studios website, including a trailer for the film, links for the production artists and ordering the film on DVD: bigfott.com/All_the_World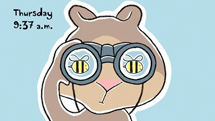 Another new release from BigFott Studios for Scholastic / Weston Woods is Scaredy Squirrel, based on the childrens' book by Melanie Watt. This hand-drawn 2D film about a squirrel who is afraid to leave his nut tree was adapted & directed by Galen Fott with character animation done by VanArts instructor & communications director Ken A. Priebe.
Visit the official page for Scaredy Squirrel at the BigFott Studios website, including a trailer for the film, links for the production artists and ordering the film on DVD: bigfott.com/Scaredy_Squirrel