There is only one film being talked about this week, and that is the most highly-anticipated film of the year, STAR WARS EPISODE VII: THE FORCE AWAKENS opening this Friday, December 18th.
Oh, and by the way, VanArts has alumni who worked on it! We are proud to shout-out about them here.

Daniel Gonzalez Solozabal, a Senior Compositor at Industrial Light & Magic (ILM), graduated from our Visual Effects program in 2009 and returned to his home country of Mexico to work at Ollin Studios. There he got to work on feature films such as THE SOCIAL NETWORK, TRON: LEGACY and PIRATES OF THE CARRIBEAN. From there, he moved on to Rhythm & Hues in Los Angeles as a Compositing Technical Director on LIFE OF PI and THE BOURNE LEGACY, before returning to Vancouver as Senior Compositor at MPC on films such as MAN OF STEEL, THE LONE RANGER and MALEFICENT. Daniel has also worked at WETA Digital in New Zealand (on THE HOBBIT: BATTLE OF THE FIVE ARMIES) and at Double Negative in London UK (on ANT-MAN), in-between gigs at Vancouver's ILM studio working on JURASSIC WORLD, and finally, STAR WARS.
Daniel Finnegan, an FX Technical Director at ILM, graduated from Visual Effects in 2012 and was immediately hired at Zoic Studios right here in Vancouver. Since that first gig, Daniel has also worked at Method Studios and Sony Pictures Imageworks before moving to ILM Vancouver. His feature film credit list includes WHITE HOUSE DOWN, THE MAZE RUNNER, NIGHT AT THE MUSEUM: SECRET OF THE TOMB, AVENGERS: AGE OF ULTRON and SPECTRE (and of course, STAR WARS).
2013 VFX graduate Rohit Nayak, from India, has worked as a Digital Matte Painter, Environment Artist and TD at MPC on THE AMAZING SPIDER MAN 2, at Digital Domain on X-MEN: DAYS OF FUTURE PAST and FAST & FURIOUS 7, and now at ILM having worked on not only STAR WARS but TOMORROWLAND and JURASSIC WORLD.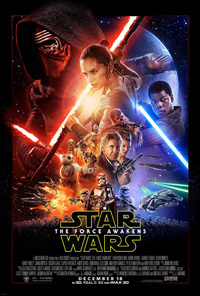 The Force is strong with our esteemed alumni who are loving what they do in the visual effects industry.
If you are a young Padawan ready to stretch out with your feelings too, contact us today about auditing a class or APPLY NOW!