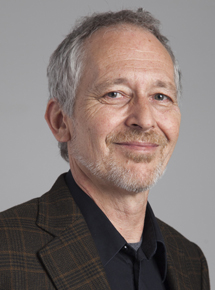 Today's featured faculty member is Wade Howie, Head of Visual Effects and Game Art & Design.
As a pioneering artist in digital visual effects, Wade's production career spanning 3 decades has included 12 years with George Lucas' Industrial Light and Magic as VFX Supervisor/Director, Head of Modelling and Animation, & Creative Director for animated TV and commercials.  His other roles include Art Director for games at Electronic Arts, on-set Supervisor for various CG/live action hybrid productions, and journeyman FX and lighting artist for film & TV. His feature credits include Terminator 2, Hook, Star Trek VI, Jurassic Park, The Mask, Casper, The Wild, Watchmen, TRON:Legacy and The Thing.
As well as training and mentoring new CG artists in industrial settings across Europe, US, Canada and Africa, Wade has worked as a college professor and consultant for new studios bringing CG artists online. Wade has also contributed at software development firms Alias Research Inc. (Maya) and Side Effects Software Inc. (Houdini), and has a background in traditional art and design as well as filmmaking.
Wade has received many awards for the commercials he has supervised: Clio (Animation): Star Wars Pepsi (Marfalump), Clio (VFX): Dodge 1997 campaign, Animation Magazine Awards: Hefty GingerBread Man & Rhythms.com Data Dancers, and Prix Pixel/INA, CGX: Pepsi Japan Pepsiman campaign.
In this short video, Wade talks about both programs at VanArts and what makes them the best training you can find for jobs in this industry.
CONTACT US TODAY to arrange for auditing a class with Wade Howie.