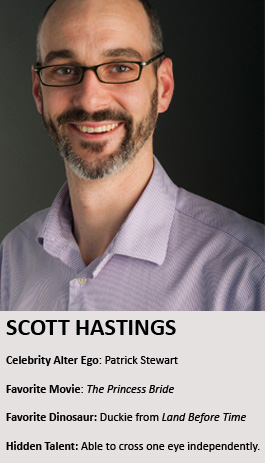 No matter which program you take at VanArts, you are guaranteed at any point of the year to interact with the amazing Scott Hastings.
Not only is he the fearless Program Manager for our Game Art and Visual Effects department, but he also trains animation students in Premiere & Photoshop, teaches web design students how to make awesome videos, and mentors photography students in the creation of their awesome websites! He also wrangles audio/video equipment for film shoots, acts as one of our bravest campus fire wardens, and does the best Andre the Giant impression you will ever hear in your life. 
But this is only his day job! By night, Scott is lead singer for the local ska band Brehden and family man to his wife and three kids. Before he joined VanArts full-time, Scott created animated title sequences for a documentary that played at the Sundance Film Festival and spent many years with the Gulf Islands Film & Television School as a program manager, soundtrack composer, video mentor and co-producer of their official YouTube channel launch. 
Scott was recently interviewed by our own Broadcasting student Oscar Fujiwara, for his Canadrops blog about Great Stories about Vancouver by People from all over the World. 
We could think of so many other reasons why Scott is amazing and one of our favorite people at VanArts, but it would be far better if you met him yourself! Contact us today and we'll set up a class audit for you.