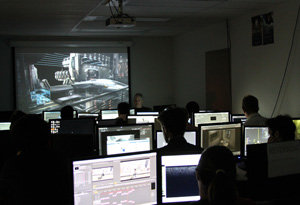 The Visual Effects for Film & Television diploma program at VanArts has been very active with many new developments, new faculty, and many reports of graduates finding work in the thriving industry. 
The department has been equipped with additional DSLR video cameras, lenses and green screens to accommodate the growth in student numbers for their film shoots, and VRay render farms have been implemented into all courses to update to current industry workflow. Strong emphasis on Houdini, Nuke and Maya is preparing our students for jobs primarily in roto/compositing, Houdini effects, and digital matte painting.  
Jim Hebb (below middle), one of the founders of The Embassy VFX studio here in Vancouver, has joined our faculty teaching courses in pre-planning and heading up our VFX workshops for student group projects in Term 3.  Jim's studio has been responsible for many world-class visual effects including stunning work on Iron Man, District 9 (Academy Award-nominated), Cowboys and Aliens, Battle L.A., Battleship and numerous other films & high end commercials. Prior to that he worked at Rainmaker Entertainment Inc.  Jim adds decades of experience and expertise from his own artistic work as well as business experience to pass on to our students. 
Also teaching at VanArts in our expanded hours for Houdini training, are guru-level instructors Jeffrey Higgins (right) and Caleb Howard (left).  Jeffrey Higgins has worked for studios such as Industrial Light and Magic, Moving Picture Company, Image Engine, Rising Sun Pictures and Animal Logic, and is currently Senior Effects Technical Director at Sony Pictures Imageworks. His film credits include Pacific Rim, Life Of Pi, The Thing, Legend Of The Guardians: The Owls of Ga'Hoole, District 9, and Watchmen. 
CG Supervisor Caleb Howard is currently in charge of Houdini implementation at Electronic Arts, and has worked in supervisory & TD roles at Digital Domain, Rhythm & Hues, Side Effects Software, and dozens of other studios since 1989. He has worked closely with James Cameron and other directors in feature films, games and media projects of all kinds. 

The training provided by these industry professionals is paying off, as the industry has been very good to our graduates. Of our most recent batch that completed their studies just over a month ago, they have been hired by Imagine Engine, Digital Domain, MPC, Method, Stargate and Waterproof Studios....and this is just the beginning!  The placement rate from our last few batches of VFX grads combined has been close to 90%.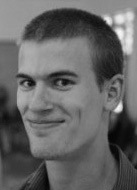 One of these graduates, Calvin Romeyn, has worked at 4 different local VFX houses in the 6 months since completing our VFX program. He started his first job at Digital Domain before he even graduated, afterwards moving on to Imagine Engine, Gener8, and Look Effects, getting to work on feature films Lone Survivor, Now You See Me, White House Down, Fast and Furious 6, Draft Day, Noah and Grudgematch. 
For more details on our VFX graduates over the years, visit our Alumni page and contact us today to get started on your own career in visual effects! 
Vancouver Sun Article: Visual Effects Thriving in Vancouver >>