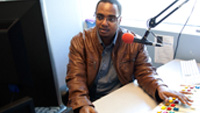 On the Air, and Over the Web…there are exciting developments afoot in our Broadcasting Department right now, as our traditional activities for radio and television are expanding into the realms of the Internet. 
With the addition of media veteran Martin Strong to our teaching faculty, and his 20+ years of experience in the Vancouver media scene including CBC Radio, CFOX and Rock 101, lots of new plans are coming together with the cooperation and input of our Broadcast Faculty, Advisory Committee and local industry leaders. 

Martin explains in his own words, "Because of the internet, the very definition of the broadcast industry has changed in the past 5 to 10 years, so we've designed a program that will help our students not only keep the pace, but stay ahead of what's out there. 
These days, a successful broadcaster has to be little bit of everything: a great communicator obviously, but also someone who can grasp social media, basic video production, website design and many different types of key broadcast software. 
We've reached out to key players in the industry and we're really listening to the feedback we're getting, when it comes to the skills our graduates need to land a job."
To find out more, visit our enhanced CURRICULUM PAGE and follow our Broadcasting Facebook page for regular news and updates. 
…and for a glimpse of what kinds of projects are being developed in our program, check out this project from our recent BROADCASTING TASTER CLASS, where students created voice-overs for a mock commercial (produced by our Visual Effects department).
…and listen live to our students on the air:
Feeling inspired?
Check out our OPEN HOUSE this Saturday!
Vancouver locals can also arrange to audit broadcasting classes anytime during the week, and outside of Vancouver, email our Admissions team for more information. It's an exciting time to start as early as September 2015, where limited spaces are still open for applications.