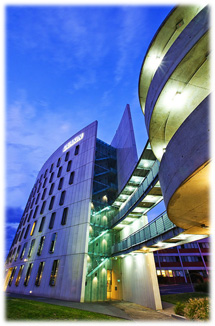 VanArts is pleased to announce that all of our programs now feature articulations for degree pathways with Deakin University in Melbourne, Australia.
Various Bachelor Degrees specific to each program can be earned in as little as one full year (3 trimesters) at Deakin, after graduating from the diploma program of their choice at VanArts.  
VanArts graduates from 2D/3D Character Animation are eligible to receive up to 12 credit points of advanced standing towards the 24-credit point Bachelor of Film and Digital Media (Animation Major) or Bachelor of Animation and Motion Capture degree programs. The latter degree is also available to VanArts graduates in Game Art & Design and Visual Effects. 
VanArts graduates may have the option of completing these Deakin degree programs over one full calendar year (three consecutive trimesters) of full-time intensive study (4 credit points of study per trimester x 3), or over two years (two trimesters per year x 2) of reduced load full-time study (3 credit points of study per trimester x 4).  
VanArts graduates in Acting for Film & Television, Broadcasting for Radio & Television, Web Development & Interactive Design and Digital Photography are now also eligible for 8 credit points into various degree programs at Deakin, for completing 4 credit points each in four trimesters.  An additional 12-credit articulation is also available for Digital Photography into their Bachelor of Creative Arts – Photography major. 
For international students at Deakin, their work permit is part of the student visa allowing them to work up to 20 hours per week.
Detailed assessments for the VanArts-Deakin articulations can be explored and accessed at the following link: deakin.edu.au/courses/credit/search.php
From this link, up-to-date information can be found by simply:
1. Selecting Canada from the first drop box;
2. Selecting VanArts from the second drop box;
3. Selecting the VanArts Diploma program from the third drop box; and
4. Selecting the Deakin degree program from the fourth drop box
For more information, you can also visit Deakin at www.deakin.edu.au

Deakin University CRICOS Provider Code: 00113B