Some of our Broadcasting graduates are heard more than seen as voices over the radio airwaves, but every now and then one of them emerges from behind the studio mike. We spotted our own Grant Johnson on a YouTube video for HOT107 in Edmonton, where he works as a Mid-Day Announcer.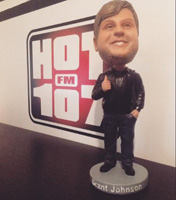 The ink was barely dry on his VanArts diploma when Grant accepted an offer to host the mid-day show at Manitoba's CJ1240 in 2011. It didn't take long before Grant was able to move to Edmonton for his current gig at HOT107, where they even made him into his own bobblehead! (That's when you KNOW you've made it. Nothing beats a bobblehead.)
…and he's not the only VanArts grad on the Edmonton airwaves! Stephen Keppler can be heard on Fresh 92.5 and Kyle Morris reads the news on 630 CHED. And here in BC we have Jordan Armstrong as a Global TV News Anchor, Ryan Henderson producing at TSN Radio 1040, Alexandria MacFarlane hosting a show on ShawTV….
Hmm, it might be easier if you come talk to us about the program or set up a free class audit. We'll tell you more stories about how VanArts grads are dominating the media scene all across Canada, and how you can join them.