The Broadcasting Department at Columbia Academy at VanArts wishes to congratulate and give a shout-out to some graduates who are launching their careers and making their mark in the industry.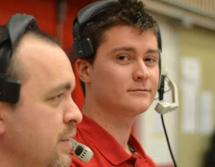 Dominic Sramaty recently graduated from our program and thanks to his tireless networking abilities, has been keeping very busy. He is the sideline reporter for Canada's Junior Football Team in the BCFC, the Okanagan Sun, and can be heard live on AM1150 in Kelowna.  He is also a part-time producer/board-operator there, which includes working with Phil Johnson and Gord Vizzutti on their morning show…and he is the play-by-play announcer for the UBC Okanagan Varsity Athletics Program.  (Why get one job after school when you can do three more?)  Good work Dom!
Past graduate Warren Andrews has been named the inaugural Broadcaster of the Year by the Vancouver Island Junior Hockey League for his work as the voice of the Campbell River Storm.  Warren is also the Afternoon Host and Sports Director at Vista Radio's 99.7 The River in Campbell River, BC.
Congratulations "Flash" for making yourself an invaluable and unforgettable voice in your community! 
In other Broadcasting news, big thanks to Rogers Promotions Guru Aaron Buckley for dropping by recently to visit our current students and next crop of graduates!