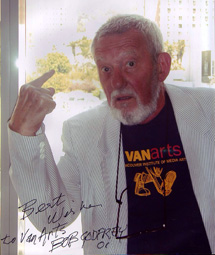 Animation Legend Bob Godfrey, one of our founding advisory board members and a good friend of VanArts, has just passed away at the age of 91. Our staff & faculty wishes to express sincere condolences to his family. 
Starting in 1997, Bob visited VanArts every summer as a guest instructor, working alongside our founding program director Lee Mishkin and other guests Bill Matthews, Bonita Versh and Ken Southworth. For 10 years following, he taught students in our full-time program and summer intensive programs for classical 2D animation.
Born in 1921, Bob Godfrey was one of the most well-renowned animation figures in the UK and around the world, having animated short films and commercials for over 50 years. He inspired countless animators including Richard Williams and Nick Park, and helped many animators break into the business. His films have won several awards including an Oscar in 1975 for his animated film Great, and his success garnered him the Member of the British Empire medal in 1986. He was dedicated to sharing his animation knowledge with hundreds of eager students at the Royal College of Art and many other schools, including VanArts. He will be greatly missed by all of us. 
In tribute to Bob, here is a look at a CBC news story which broadcast in 1997 featuring him teaching in our summer program alongside Lee Mishkin. 
The following note was also sent to us by Bonita Versh, another founding advisory board member and dear friend of Bob Godfrey:
To all my friends, students, teachers, comrades-in-arms at Vanarts- past, present and future, don't ever forget our elders! Goodbye to Bob Godfrey, one of our favorite all time people, and one of the Godfathers of Vanarts along with Lee Mishkin, the original Program Director there. Lee would take Bob and me out to eat salmon, drink, discuss animation, the school, the kids, and the goings on in the world of animation in Vancouver, Los Angeles and Great Britain, including Europe, where Bob traveled yearly to attend almost every animation festival invented. Well known for his bigger than life personality, great storytelling skills, funny Academy-Award-winning short films,and his brilliant, economical, quirky animation style, Bob will never be forgotten. Thanks to Alan Phillips and VanArts, special lectures hosted by Charles Phillips, Ken Priebe and myself, we've documented Bob's best stories and animation insights. One of our elders is gone, a great man and mentor. I lift my glass to you! We remember you, dear Bob Godfrey!
Love to all, Bonita