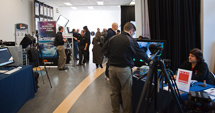 Fusion 2011 was a big success! Held on Saturday, February 5th at the VanArts downtown campus and presented by Beau Photo (www.beauphoto.com) in partnership with VanArts, the first Fusion conference for DSLR video saw well over 100 visitors pass through the show. Exhibitors came from near and far to promote and demonstrate all kinds of photography and cinematography gear. The seminars were a huge hit with engaging and inspiring speakers presenting to a packed house.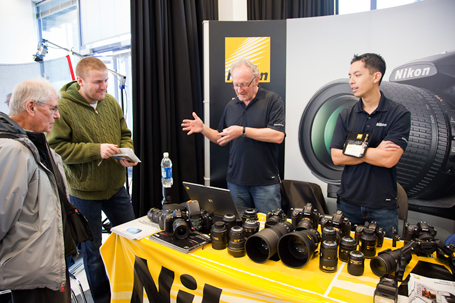 Rob Sturgess and Mark Cruz from Nikon (www.nikon.ca) with an impressive spread of cameras and lenses.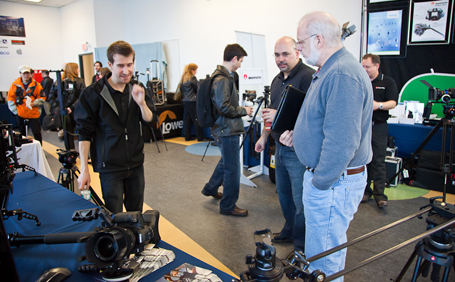 Dennis Wood (President) and Luke Grandmont (awesome cinevator) of Cinevate flew out from Ontario to demonstrate their incredible product line. Definitely one of the highlights of the show. (www.cinevate.com)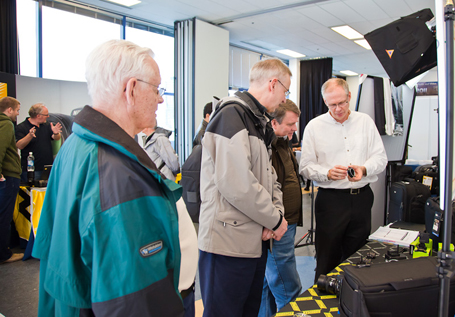 Stephen Holmes from Nadel Enterprises Inc. (www.nadel.ca) demonstrates gear to eager photo enthusiasts.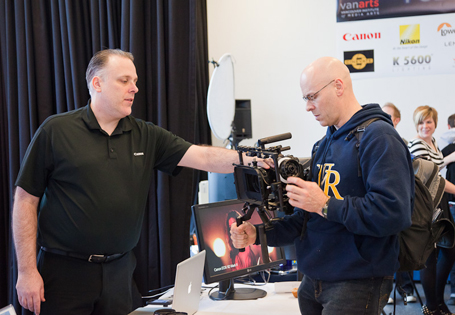 Matt Thomson from Canon Canada (www.canon.ca) demonstrates a Canon DSLR mounted in a Cinevate rig to pro photographer William Jans (www.wrjphoto.com).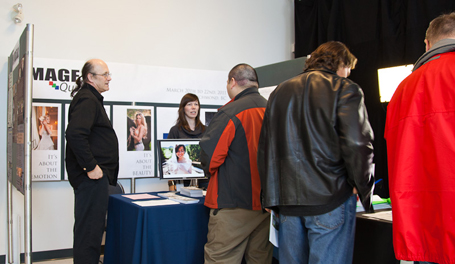 Rob Salmon, President of the PPOC – BC Chapter promoting the upcoming Image Quest Photography Convention, running March 20th to 22nd. (www.imagequestbc.com)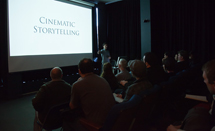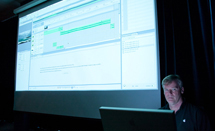 (Left) Kevin Shahinian, award-winning filmmaker and founder of Pacific Pictures (www.pacificpictures.net) gave a jaw-dropping presentation on filmmaking with DSLR cameras. Kevin is sponsored by Cinevate and uses much of their equipment to produce his incredible work. Watch out for this guy…he will be directing a Hollywood feature one day! 
(Right) Brian Hutchison from Apple Canada (www.apple.ca) demonstrates video-editing software Final Cut Pro, sponsored by Simply Computing (www.simply.ca).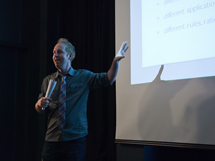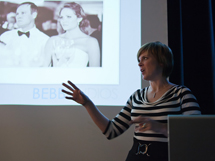 Stephen and Jennifer Bebb in action, talking about Fusion in their wedding photography business. The Bebbs have mastered the art of fusing stills, sound and video, and have been named one of the top 10 wedding photographers in the world. (www.bebbstudios.com)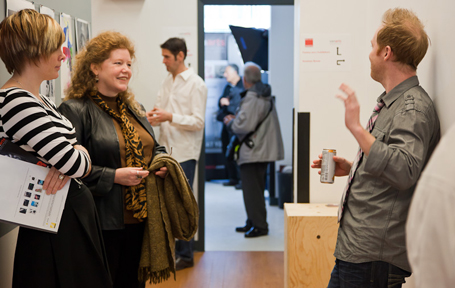 VanArts' consumer photography lead instructor Mary Jensen chats with the Bebbs. Ken Shymka (pro sales) and Angie Apostolides (owner) of Beau Photo and legendary stills photographer Phil Hersee (www.philhersee.com) can be seen in the background.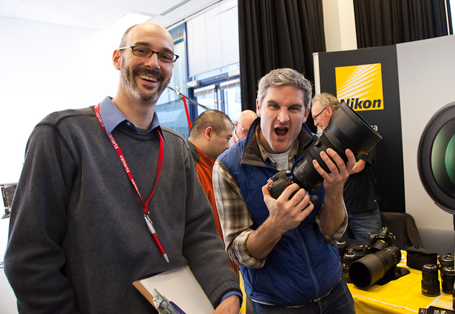 VanArts studio manager Jeff Bell, with instructor Scott Hastings, are very excited about this Nikon monster of a lens!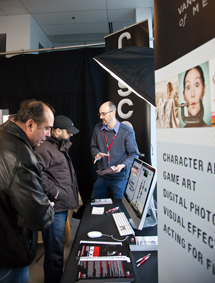 At the VanArts booth (left), Scott Hastings talks about our upcoming DSLR Video weekend courses. These courses are launching in April 2011 and now open for registration. Click HERE for more information! 
If there is one thing we came away from Fusion 2011 knowing for certain, it is that the fusion of stills and video in contemporary media opens up a world of exciting possibilities. We can't wait to see more of this evolution! 
Take a closer look at more photos from Fusion 2011 in our albums on: