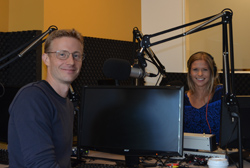 VanArts was thrilled to welcome another illustrious guest speaker from the animation world to enlighten our students last week: Mark Oftedal.
A graduate of CalArts, Mark began his career as an animator at Pixar Animation Studios on TOY STORY, TOY STORY 2 and A BUG'S LIFE. He has also done character concepts for Sony Pictures Imageworks and Warner Brothers, and co-founded DigitalFish Inc, serving clients that include Dreamworks Animation, Google and NASA. On top of this he's been a director and animation supervisor for award-winning short films and taught for Animation Mentor and workshops at ILM Singapore. With such a wealth of knowledge and experience under his belt, VanArts' animation students were delighted to enjoy an animation demo, workshop and Q & A with Mark.
We also invited Mark into our VanArts Radio station, where he was interviewed about his career by Broadcasting student Saige Pacholok. Listen in to our radio interview here!
Many thanks to our faculty for arranging and facilitating this event, and big thanks to Mark for spending time with us!