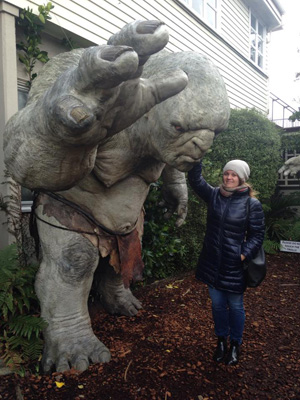 Much like the story of certain Hobbits named Bilbo and Frodo, an animator's career journey begins with a call to adventure.
Such was the case for professional animator Agata Matuszak, one of many VanArts graduates who have enjoyed a long career in the industry. Switching gears from a pre-med background, Agata applied to VanArts in 2003 with a dream to work on movies for Disney.  After two years of study, her first job was with Veda Games in India, followed by returning to Vancouver for work at Rainmaker Entertainment, Digital Domain, Prime Focus, Image Engine and Sony Pictures Imageworks. Agata's feature film credit list includes Thor, X-Men First Class, Oz the Great and Powerful, Smurfs 2, Spiderman 2, Chappie, Hotel Transylvania 2 and many more. NOW she has made the big leap to New Zealand as a Senior Animator at WETA Digital, where she finally realized her dream – by getting to work on The Jungle Book for Disney.
About her time at VanArts which started her on this entire journey, Agata says, "My experience at VanArts was amazing. During the 2 years studying 2D and 3D animation, it was a lot of hard work and many late nights, but without those challenging exercises and well balanced classes that gave us more one-on-one time with the teachers and hard work, I wouldn't be where I am today."
Good work Agata! We're proud of you and say hello to the Hobbits for us!
Feeling inspired?  Audit a class or speak with an Admissions Advisor today about a career in animation.